Hey guys, not sure if this was the right place to post but here goes..
I got permission to dig up a couple hacked up elms in a parking lot that was about to be flattened for apartments. I tried to wait til late winter (should add this is in western sydney) but they refused to drop their leaves and go dormant, i waited as long as i could before collection would not have been possible due to it turning into a construction site. ( late july ).. I thought i had got enough fine roots on the bigger one, the smaller one i doubted would make it but they were next to each other so was worth a try. You can see from their first photos very large tap roots had to be cut off. I sealed these up, trimmed them back and left them in a shady spot for a few weeks before slowly introducing them to the sun again.. in their second photos most of the leaves are still on them (mid august).. It is now 4 months later and well into early summer and still no new buds have appeared and most of the leaves have slowly fallen off leaving only a few sad looking ones left ( definitely not autumn style dying leaves, more like im dying cya later) . The cambium layer is definitely still alive, its still bright green and moist in any area i cut / scrape. I have recently dug down a bit to check for new root growth and couldnt see any but didnt want to disturb it to much.
My question is has anyone experienced anything like this? Normally if ive collected a tree and its not going to make it, by now there would be no green under the bark, it would have either long ago sprouted growth, or obviously been dead. Am i right in assuming its probably just very slowly dying ? or is this sort of extended recovery period possible in elms and it still put out some new growth later in the summer / next spring?
Any suggestions / input appreciated.
Before i touched them, they had obviously been hacked back a few times. Pic from july 28.
Large one when i got it home.
Few weeks after getting it home and potted.
Smaller one.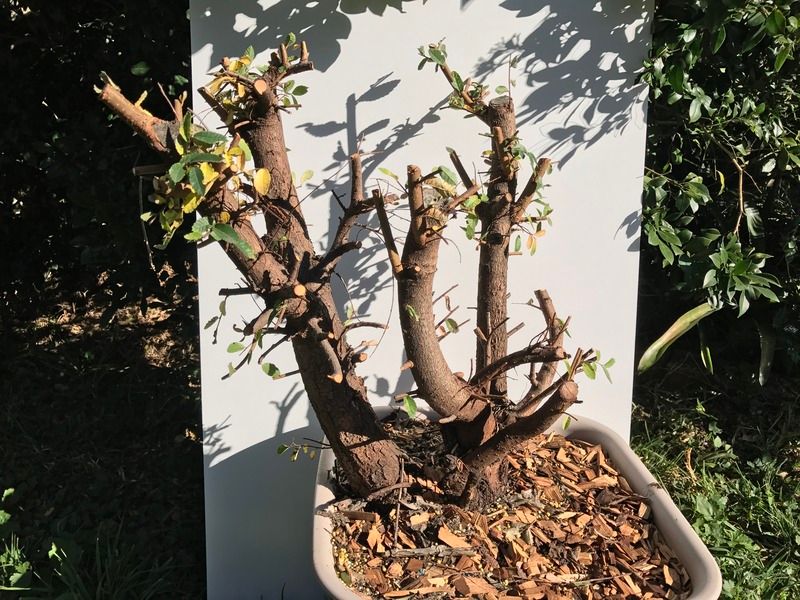 Few weeks after getting it home and potted