There were a few trees that I really liked at the exhibition and a few that I couldn't get a reasonable photo of and they are in this post.
This was my favorite tree, a small and very simple design that struck a cord with me. The tree and pot are by the same artist and it tells me the story of a tree on a hill fighting against the prevailing weather conditions. The stand was also unique as you will see in the photo below.
The swamp tea tree as presented, and I presume the artists preferred front, I hope the artist doesn't mind but I did prefer the front as shown in the photo below.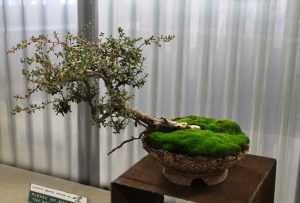 Sticky wattle, 18 years old and very large.