What do you get a person with everything they need, simple answer is another tree to play with!
This tree was given to me by my family who couldn't decide what to buy me for a birthday so they all pitched in to buy this tree. It was nursery stock that was probably destined for use as a Christmas tree, but I hope its life will be much better now as a bonsai.
My plan was to only write this article after the tree was in its first bonsai pot which is planned for this coming spring, however it does depend on how well it recovers from the last "working" when the potting is done. I have purchased an oversize pot that I refer to as the training pot although it is not really a training pot, it is just a bit big for this tree.
As a side note, I have started bonsai pottery classes and I have made a pot that I hope will suit this tree, but that will be a few years down the track. After the pot has its final firing, probably a month from now, I'll post a photo of it.
Some of the photos are a bit rough but they do help to tell the story. I don't have any photos from when I first got the tree and the original photo I have is in 2014 probably about two years after I got it, however you can see the work that was done – a few lower branches off, the top cut and jinned and some trimming of the foliage. The first photo shows the tree with some nice lower curves, but then a very straight trunk.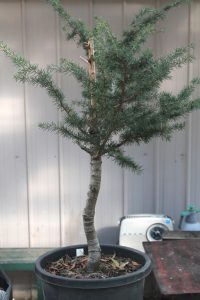 I had pre-decided that this tree would be literati style and the initial work was directed towards that goal.
The next photo is in August 2014 and shows some wiring and shaping, but also the nice lower trunk curves and then the straight section.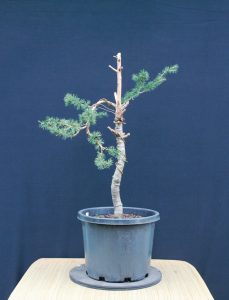 Time fly's when you are having fun and I didn't do any real work on this tree until June 2016 and this photo shows how it looked then.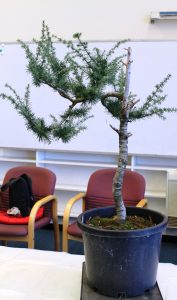 I attended a workshop in Canberra conducted by Grant Bowie with the intent of "putting some curve" in the straight section of the trunk. Well that involved some heavy copper wire, some raffia, more heavy duty copper wire and still more raffia. There were a few guy wires and a bending "stick" involved as well.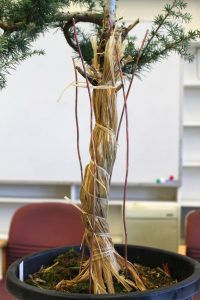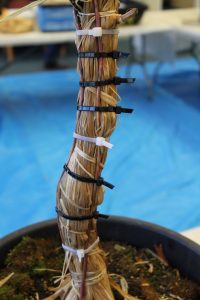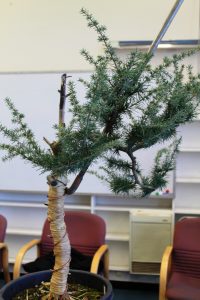 January 2018 (about 18 months later) this is how the tree looked and I was thinking about taking the binding off but cedars have a reputation for "springing back" so the decision was made to leave it for another few months.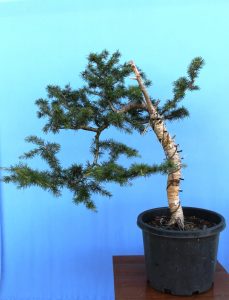 In March 2018 I was given the opportunity of attending a workshop with Carlos van der Vaart and the following photos are from the workshop day.
There is of course plenty of work still to be done, but for now it is progressing in the right direction.
The new planting angle shows the success of the trunk bending however I think the foliage mass will need to be moved slightly towards the right as you look at it, but that is work for another day.
There is a significant change in the before and after and I hope the next phase is as successful as the previous ones.