I purchased this Pyracantha from a general nursery at Bungendore in 1994 with the intention at that stage off having a full cascade Bonsai. It was a grafted plant and the nursery assured me it would flower profusely, that was the thing that convinced me to buy it.
In the next spring I re-potted it into a bright blue cascade pot and the tree flowered however it never produced any fruit. Some years after that I put it back into a plastic pot because I thought the previous pot did not provide the correct amount of drainage. After recovering the tree started to again flower and there was some fruit, but not a lot.
As you go through your bonsai journey knowledge is imparted and I learnt more about fruit and flowers on bonsai.
In about 2005 it was planted into an un-glazed pot of Chinese origin. The full cascade was quite long, and it was flowering each year, but still not much fruit.
The flowers were again good, and I was hoping that the Autumn colour would be spectacular.
 After a couple of falls I decided that the long cascade branch needed to go, and that a new pot was in order.
I really liked the new pot and I thought the tree also liked it as the flowering was better and the fruiting more abundant. However the local magpies liked the fruit a bit too much and pushed the tree and pot into the ground, so it was back to the old pot in 2010.
 It did continue to improve and in November 2011 it flowered again.
Again the flowering was great, but the fruiting not as good as I had hoped.
By 2012 the fruiting was beginning to look like the idea I had in my mind for this tree, but still a little short of the mark.
In 2013 I altered my fertilizer program by dramatically increasing the frequency and changing the type, from general fertilizer to those directed at fruiting and flowering. I also decided to remove the top branch and to try to "tighten" the foliage pad.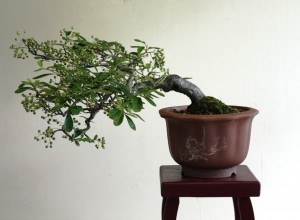 The above photo was taken in early March 2013 and shows a good number of fruit that are nearly ripe.
While the fruiting was now starting to look as I had imagined it, while moving it around during the photo session, I decided on using the back as the new front, and compressing the foliage even more. Many bonsai are "viewable" from a number of angles, and I think this is a better side for this tree.
As you can see this tree has been on a long journey and hopefully there is no end it sight. The plan is to continue to develop this in this style, semi-cascade, and to put it into a better pot this year.