The concept of Bonsai by the Harbour is to have many differing events occurring over the period of the weekend. One of the sessions that interested me was the making of free-form bonsai pots, conducted by Penny Davis of Mudlark pottery. Penny is a Newcastle based potter and started making bonsai pots for her own trees because the commercial pots did not suit the Australian natives that she grew. So that set her on the path of making a variety of hand made "one off" pots for bonsai, and especially her unique "cracked earth" pots that are very suited to Australian native bonsai.
Following is a pictorial of her demonstration.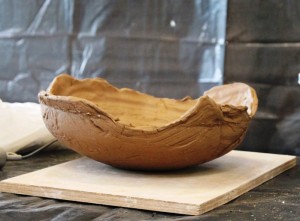 All pots are unique, so there is something special in every pot she makes and they are ideally suited to the Australian native bonsai.