The Bonsai Federation of Australia (Northern) have been putting on a bonsai weekend title Bonsai by the Harbour for many years now. I try to attend at least one day each year, but this year I had the opportunity to attend both days and I grabbed it with both hands.
The event is set in idyllic surroundings and is presented with multiple demonstrations and activities occurring at the same time and throughout the whole day. There are also silent auctions, workshops and of course the chance to catch up with old friends.
For me the day kicked off with a three tree demonstration by Grant Bowie on Hawthorns, a favorite tree of mine. The fact that these trees were dug on a dig organised by the Goulburn Bonsai Society added particular extra interest.
Grant started by talking about the reasons he dug these trees and the post dig treatment he gave them. Many trees can be dug that are straight but the trees with movement are much sought after and more interesting to with, and thus more valuable. If you can find trees with a reasonable nabari as well, that is a bonus.
After taking them home he cut them through as one might do to an olive and set them aside to recover. One tree grew well and was stable in the pot but the other two were not quite stable enough in their respective pots. Grant decided to take them out of their training pots and potted them into bonsai pots, and he believes this has significantly improved their stability, and thus their root systems.
The first tree up for working on had a good nabari, good old bark, some gentle movement and plenty of branching. All in all a good candidate for demonstration purposes.
The second tree, a potential triple trunk, also had a nice gentle curve or two, reasonable nabari and again plenty of branching. These first two trees were the ones that did not root as well as Grant had hoped, but after putting them into bonsai pots they certainly improved.
Grant spent some time on each tree removing branches that he knew he would not need for the future, but the trimming was done carefully so that there were sufficient branches left for the health of the trees.
The third tree (the one that was more stable originally) had been work on more than the others and had some branch selection carried out previously and those selected branches had been wired. It also has some carving conducted, not detailed carving, but initial carving to set the tree on its course.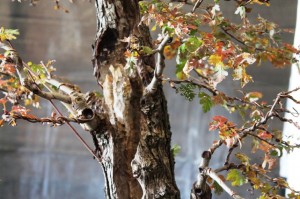 It was a great way to kick off the weekend, especially for someone interested in Hawthorn as bonsai.