Atlantic cedars loose all their needles progressively and are usually on the tree for about three years. So is it possible to defoliate so all the needles are removed at the one time?
This is how the tree looked last year.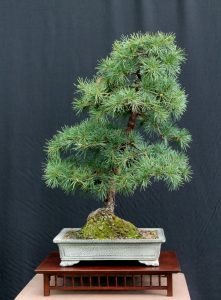 It needs to be wired again and it is quite difficult with all that foliage so a few needles were removed, and progressively all the needles were removed which left only this years buds. This is how it looks now.
Wiring will be much easier and it will also get a trim. Is this good successful horticultural practice? I will let you know in a year or so.