The third tree of the weekend that Ryan worked on was a Japanese Red Pine, and was the best tree and therefore the best demonstration of the event.
The tree has some history which it great for an Australian tree. It was originally owned by Barrington Chee and the tree was originally styled by John Naka in 1975. John at that time did a sketch of what he thought the bonsai should develop into.
The bonsai was then given to Geoff Henderson who cared for it until ill health prevented him from providing the care needed so about three years ago it was donated to the National Bonsai and Penjing Collection of Australia where it will live and prosper for many years to come.
As can be seen in the above photo, the tree is a large old specimen.
During the time Ryan was working on this tree he continued to give the audience some of his history from his time as an apprentice with Mr Kimura and his post apprenticeship life, all of which was very insightful.
He also continued to educate those in attendance about his method of developing, maintaining and improving red and black pines.
 The time of the demonstration just flew past and that is the mark of a really successful artist, one who holds the attention of the crowd.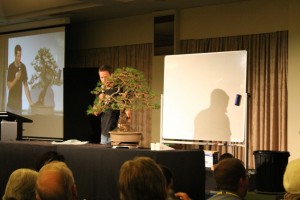 People were in agreement that the result was terrific and we all hope that Ryan can make another visit to Australia in the coming years.