This Prunis Salicina was a wild dig quite some years ago, a triple trunk yamadori. I am guessing that it was self sown by either birds or by someone throwing a seed out after eating. I find these a bit sour to eat and they are usually used for making plum jam which we have done in previous years – just for fun.
Like most of my bonsai it needs some work but I do most of the work after flowering so I can enjoy as many flowers as possible. Most years I allow it to fruit however this year I think I will restrict the fruiting so I can do some re-designing.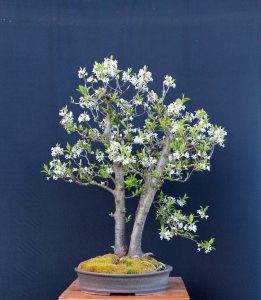 A close up of the flowers.