It's been a little while (more like 8 months) since I've updated this blog. After finishing my short-term apprenticeship at the end of February, I had 3 or 4 days off before I had to jump back into full-time study at university. And as life goes, some things get left on the backburner while other stuff gets done. Finding time to write entries has been difficult, but now that I have some downtime (or whatever you'd call it while still studying full-time) I can finally get back to blogging a bit. So hopefully there'll be some more regular entries (maybe fortnightly?) over the next few months, and hopefully I'll be able to put up all of the stories from earlier this year.
In other news, I'll be heading back to Japan at the end of the year to do another 3 month short-term apprenticeship. This time I'll be heading to Gashou-en in Kumamoto learning under another Shohin King, Masahiro Sasaki.
The next few posts will be about Gafu-ten and all of the stuff involved with exhibiting and selling at that. From the time that I arrived in early December until Gafu-ten in early January, both Koji and Big Boss (Koji's father) were busy everyday preparing trees for sale and exhibition. Pretty much all of the work in the nursery is centred around preparing for exhibitions, that work isn't always fun and games, things like cleaning and airing out the table cloths, carrying stuff, loading stuff.
While I was put to work practising my wiring for most of December, a few days before we had to leave for Gafu-ten I was tasked with putting moss on some of the sales trees. I thought it would be good to do a small tutorial on how to moss up trees, Evan-style.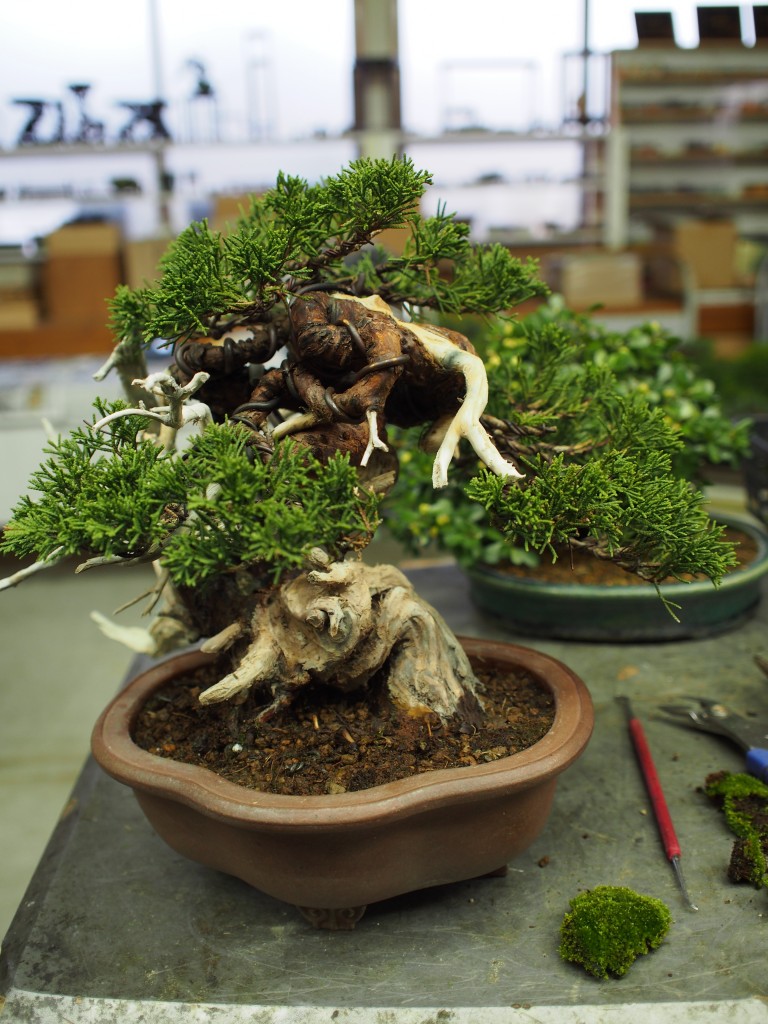 Here's the patient for this operation, a nice shohin shimpaku.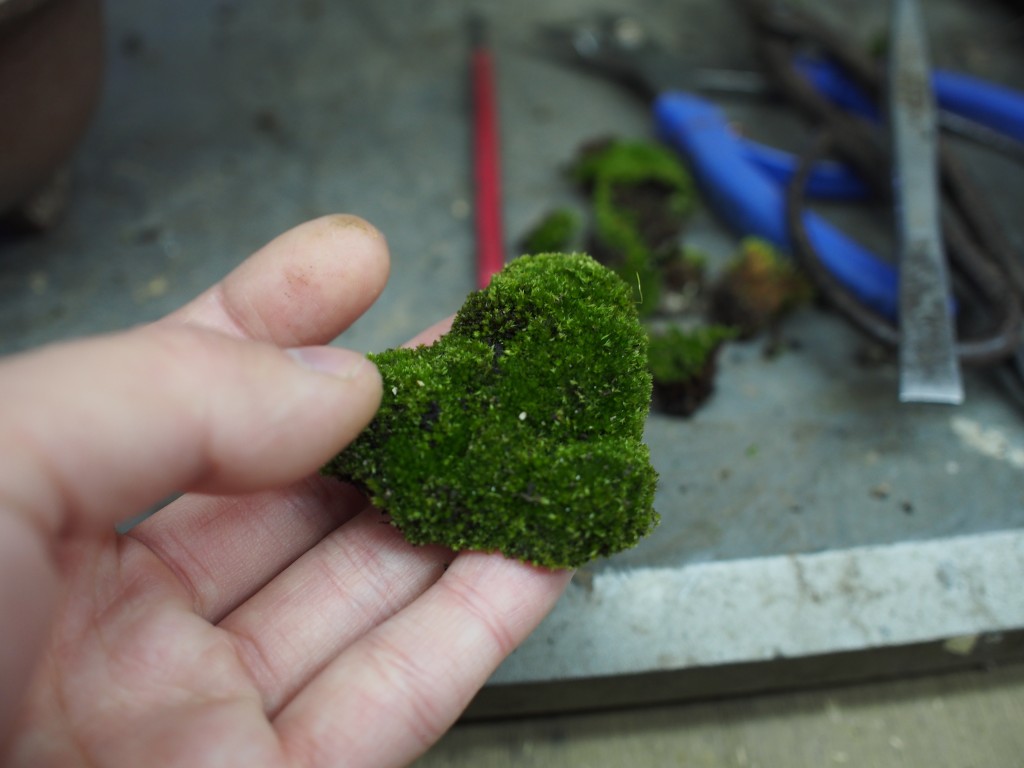 And here's the moss. What I found amazing about this moss compared to the stuff you can find in Australia is that it seems to naturally form little mounds. Makes it a lot easier to break apart into natural looking clumps when mossing trees.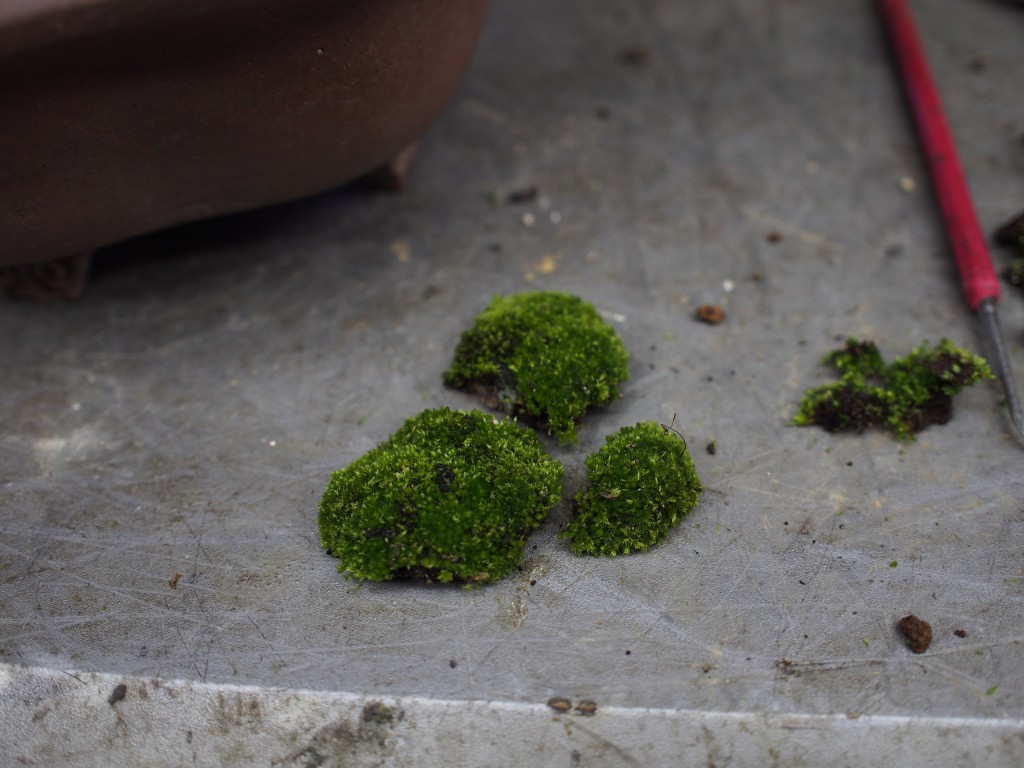 Speaking of clumps… After you've broken the moss up into little clumps, you gotta clean the little fella. Basically get rid of any little leaves, or weird snail poop trails, or little dead spore heads, pretty much anything that isn't velvety and green.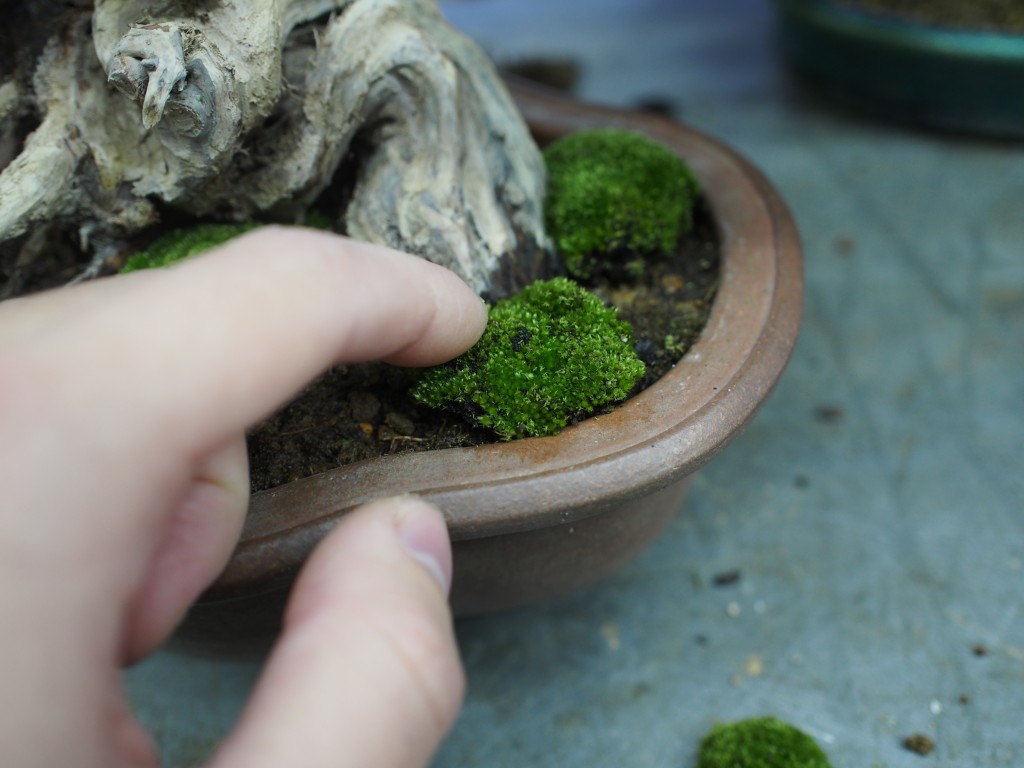 Next comes the hardest part, trying to make the moss look natural. It might seem a bit counterproductive to break the moss apart to only put it back together again, but it looks 5x better than placing the moss on in large sheets. And definitely try to avoid making the moss a flat carpet. Flat moss = boring moss = unnatural moss. The key is to avoid any strong lines formed by the moss when you look from the front, unless you want the strong lines suggesting you have roots where there are none.
The next trick to making the moss look natural is to place it like a jigsaw puzzle. Find pieces that will fit into spaces perfectly with no visible join between two pieces, and if they don't fit perfectly maybe cut a little off until you get the desired effect. You might also need to trim soil off the bottom of the soil so that it sits a bit lower and joins a bit better.
Repeat this until there's no soil visible on the surface. It's a bit hard to describe what it should look like in words, so I'll let the next picture do the talking.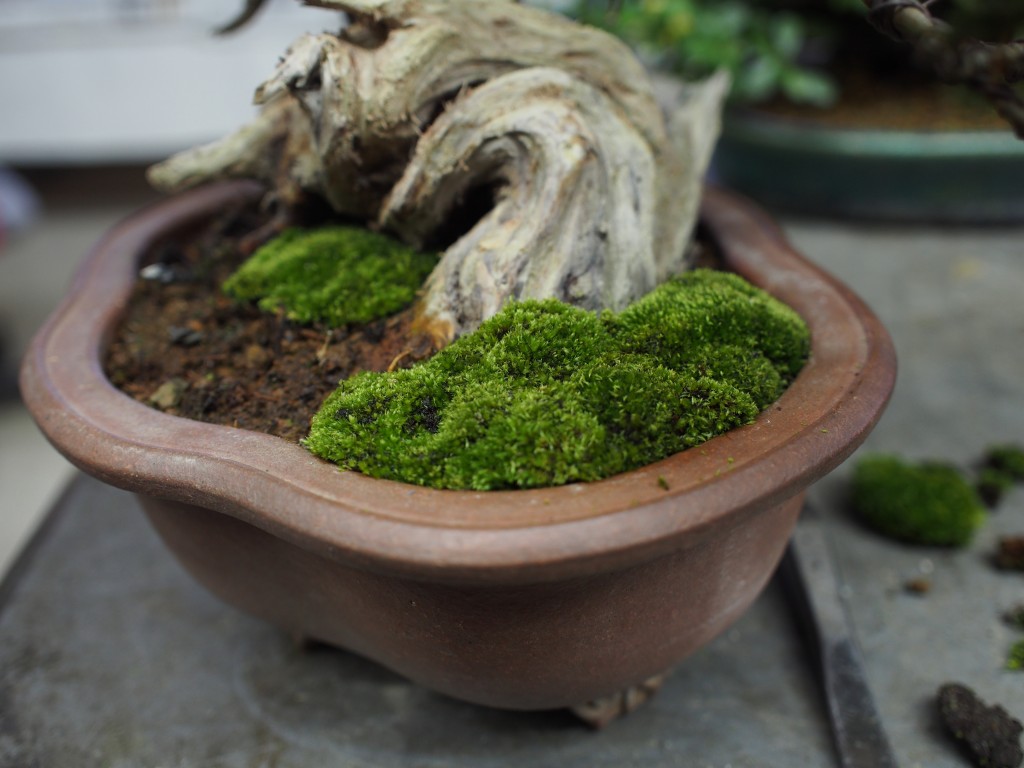 You'll hopefully end up with a lush undulating carpet like this little segment. Like most of Bonsai, you've got to take your time and be meticulous if you want good results.
After finishing up the mossing and all the final touches on the trees, it was time to load them into the van for the journey to Kyoto. The good thing about shohin is that they're easier to pack and transport than larger trees. All of the trees were transported in white crates, with newspaper packed inbetween the more expensive trees and pots to make sure they don't move. These crates are incredibly handy because of all the accessories that come with them, like the spacers for the taller trees, or the wheels that you can attach on the bottom.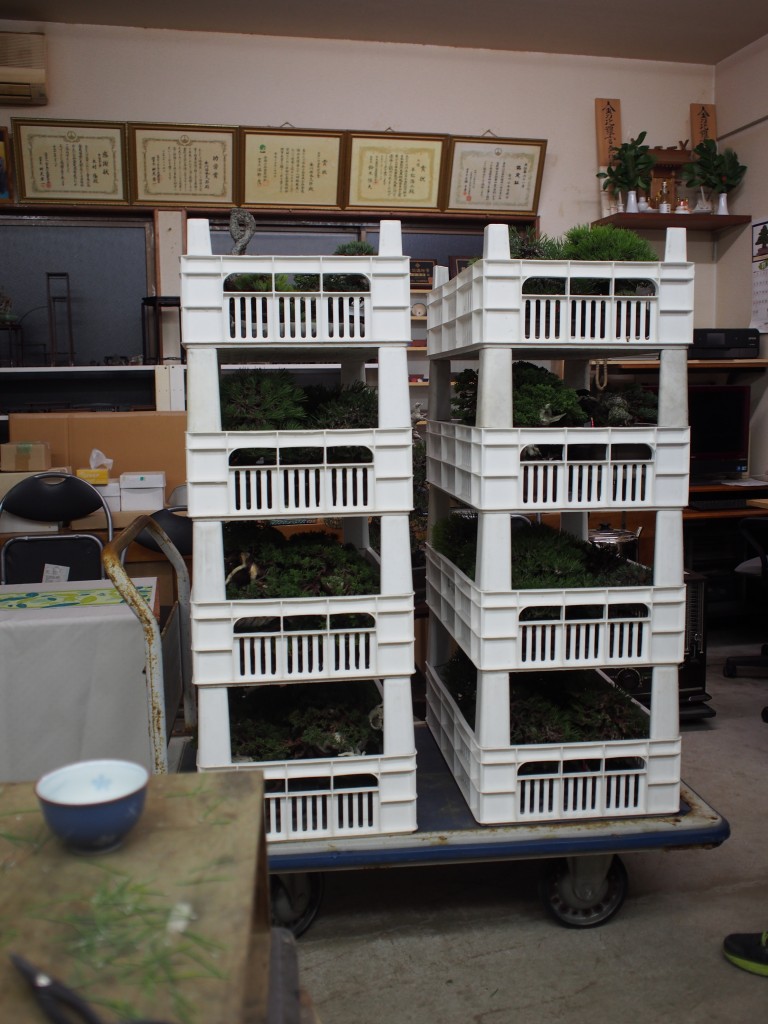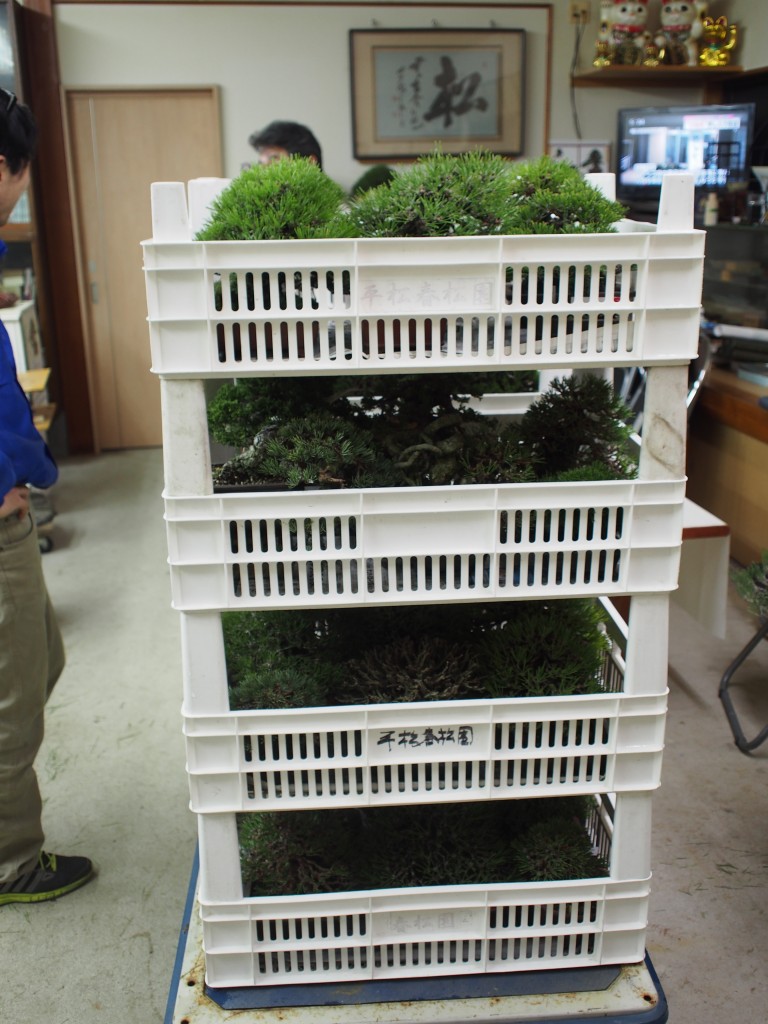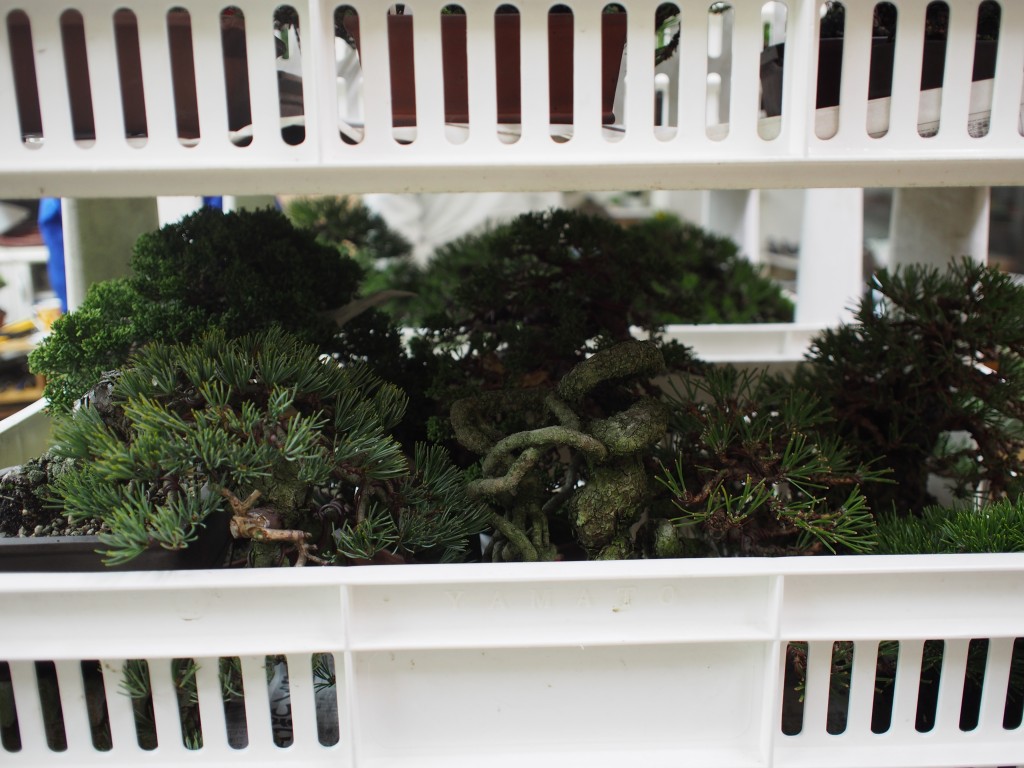 The cheaper stuff unfortunately doesn't get the same royal treatment.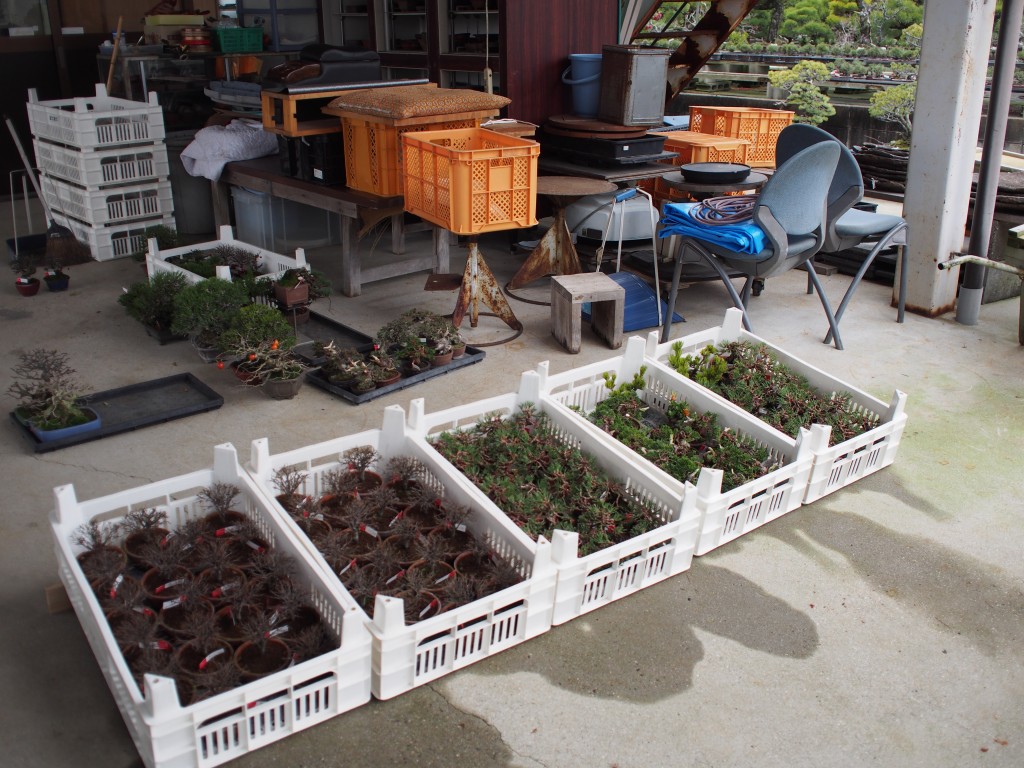 Our chariot to Kyoto is the customised bonsai Hiace. This van is mainly used for transporting bigger trees and travelling to sell at exhibitions, other than these events it doesn't move from under the carport. Fitted into the back of the van is custom welded supports for the shelves. This shelving is especially handy for the Shohin crates, they fit nice and snug on the top shelf.
Right on the top we put in crate which had a shohin shimpaku with a massive delicate tenjin that had about 1cm clearance. It worked out okay, but definitely a sweat inducing moment.
In the end there were probably 20 of those white crates all filled with trees. Along with those we had to pack 2 crates of pots, shelves for the sales tables, and all the stuff for the customers displays. Only just enough space left for me, Koji, Big Boss and his wife.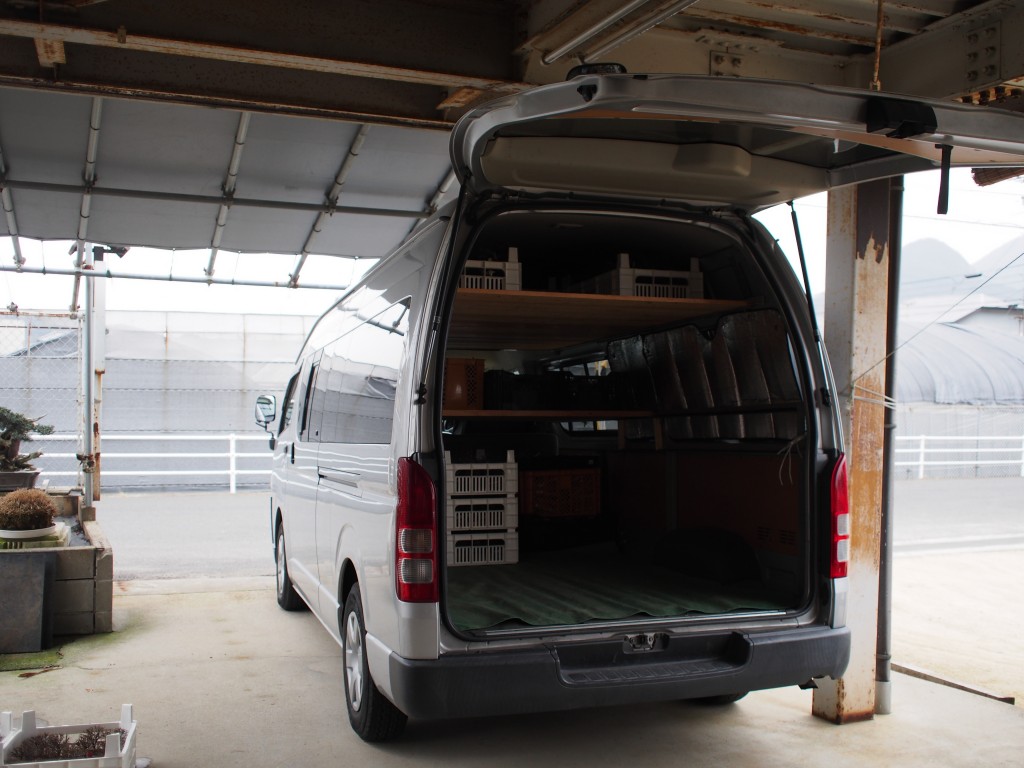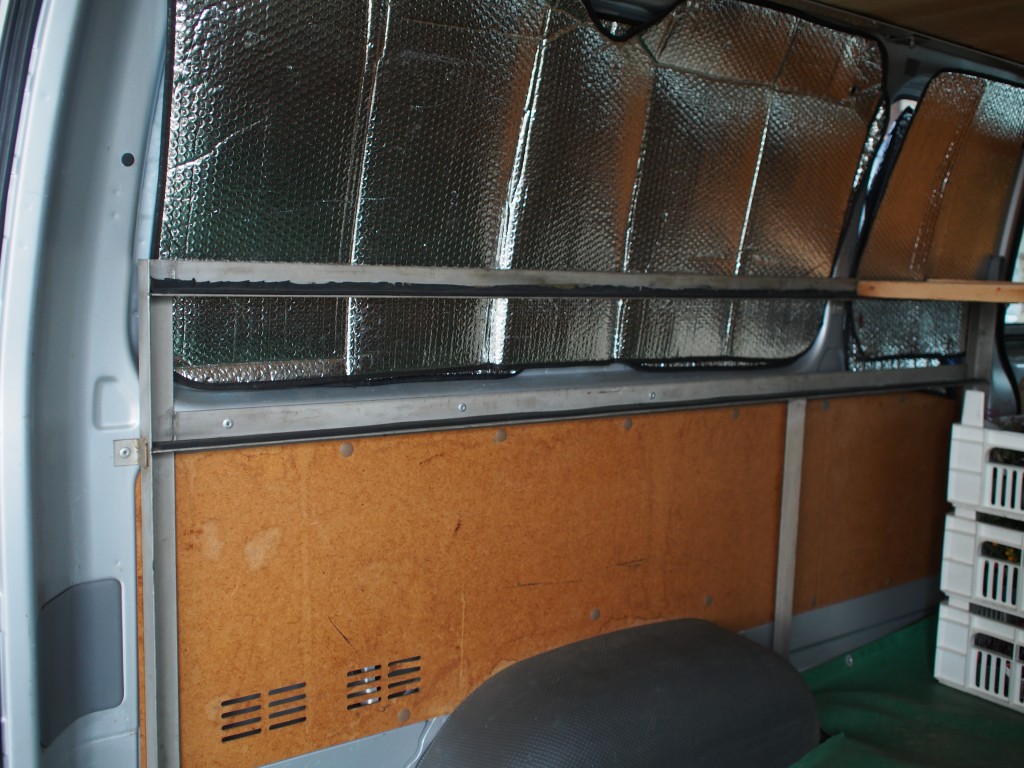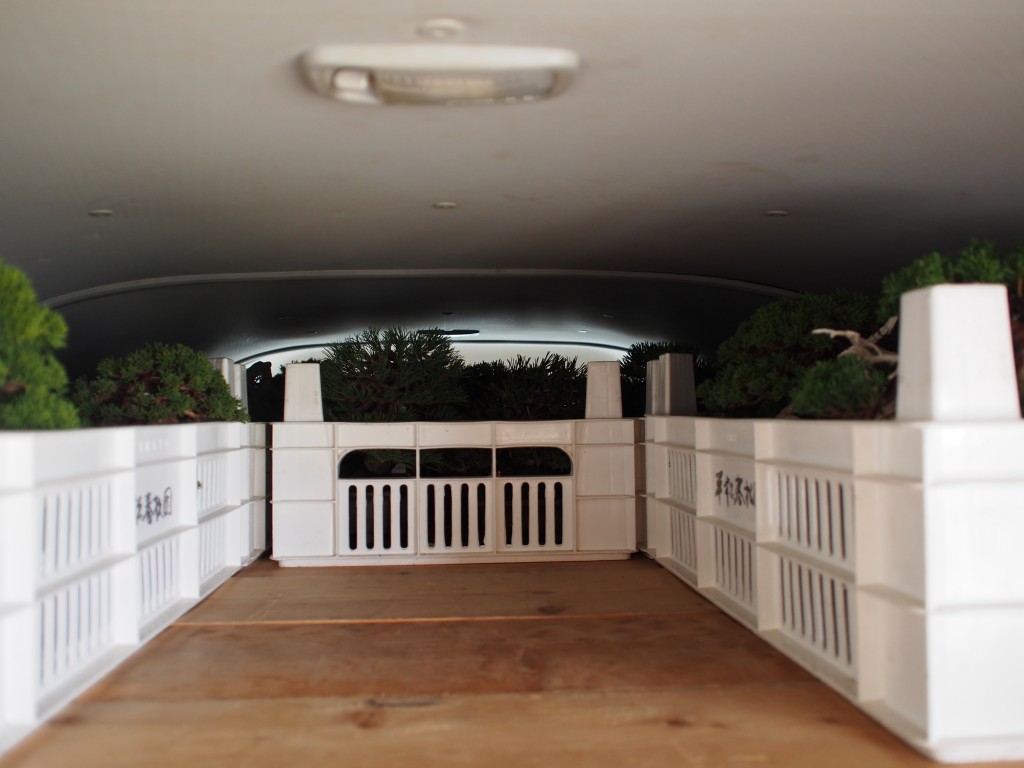 And here is the van again at midnight, when we start our journey to Kyoto. After finishing work for the day at around 5pm, we had dinner, a shower, bag packing, and then a small rest on the couch before we had to head out at 12am.
Rather than drive all the way to Kyoto in one big stretch, we caught the ferry from Takamatsu to Kobe. The benefits of taking this route to get there is we're able to get a rest on the ferry before having to work hard setting up for the show. We got to the ferry port at around 1am, with our ferry scheduled to leave at 2. This gave us a good hour to have a nap, or in my case, get out and take some photos of the ferry port.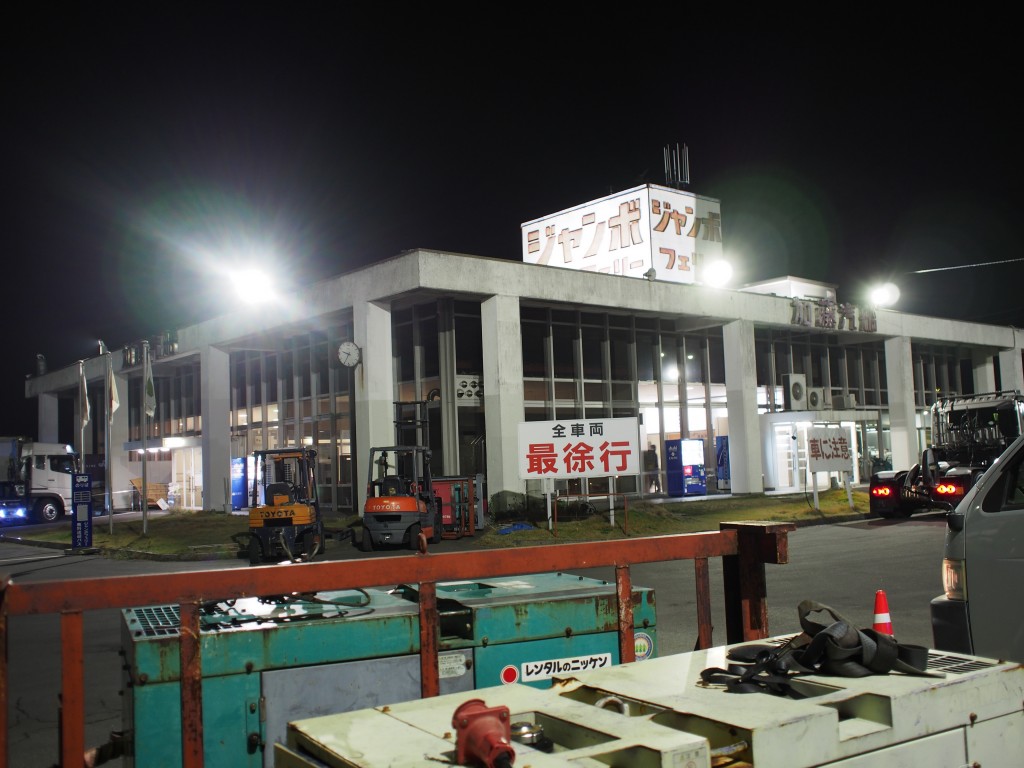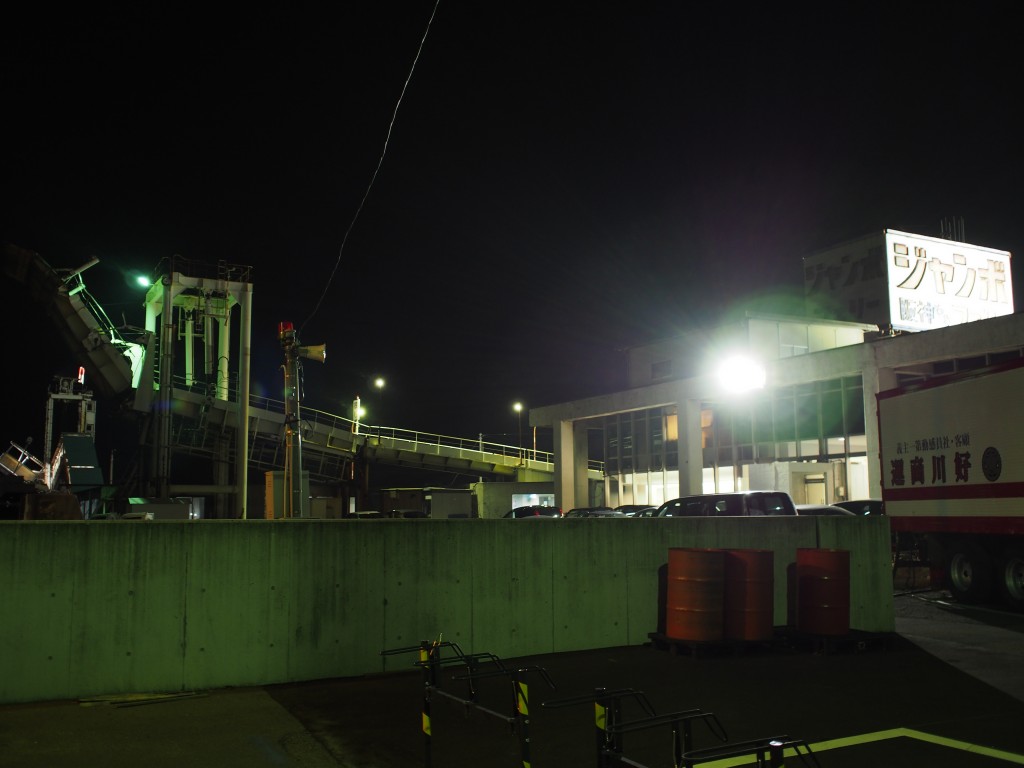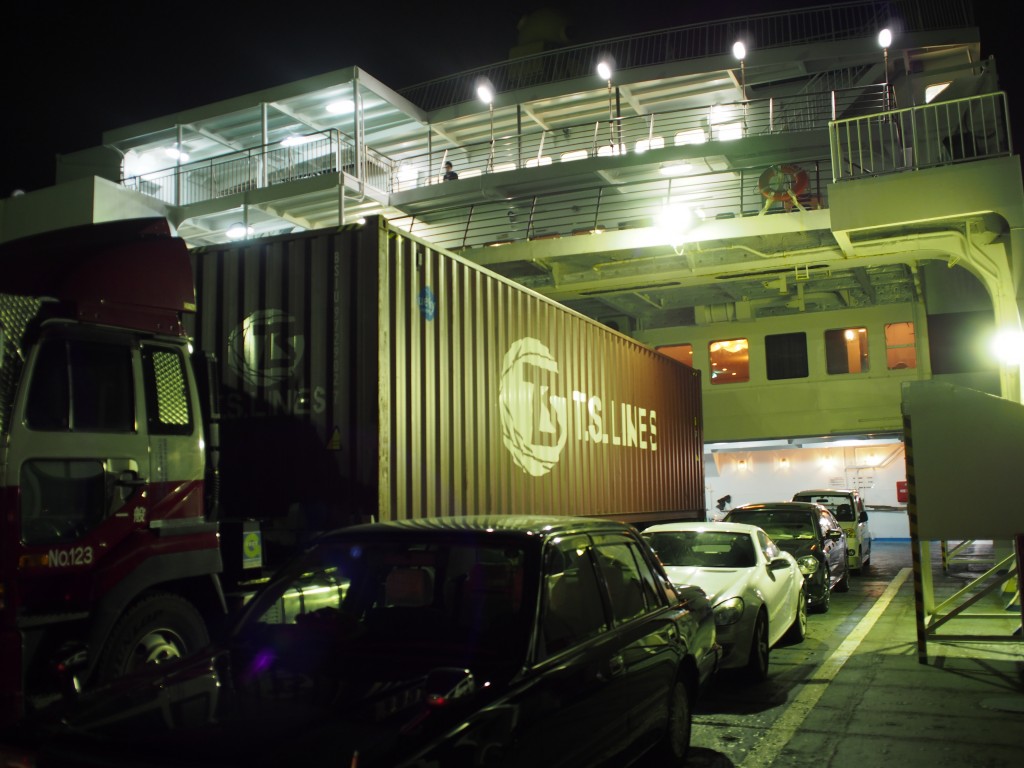 Hello Kobe! After getting in a 3 hour nap, it's time to get off the ferry and head to Kyoto so we can get there at 7pm. Stay tuned for part 2 of Gafu-ten adventures.