On account of things being so hectic before Gafu-ten, and with so many things happening day-to-day (including being sick for a few days, surprise guests, and midday rice runs), I've not had much time to dedicate towards my blog. I promised a glimpse into bonsai export and the happen-nins of that process, but, I'm still playing catch-up with many events and thought this one would be better to post first.
Prior to our travels, Koji had told me that we would need to go to Kyushu at some point before Gafu-ten, to pick and choose some 'schmick' pots for the trees going on display. Our destination would be Gashou-en, the nursery of Masahiro Sasaki, who was also Big Bosses apprentice. I know most in the West probably have no idea who Mr Sasaki is, but, he is the "Shohin Boss" in my books. His nursery is a ridiculous Shohin Mecca, I think the photos don't beat the experience of being there. Not only are the trees all top notch, he's got the pots to match. Even with my limited pot expertise I could spot multiple Gekkou and Yuzan pots. Not only is his nursery ridiculous, the story behind the man is impressive as well. He started his apprenticeship with Big Boss at 15 years of age (I know it was the 80's and things like that were probably more normal than now, but still…).
Now a prior warning about this post: This will be a travel and photo tour only post. I took way too many photos, so the next post will be equivalent to the Sports Illustrated Swimsuit edition of Shohin bonsai posts.
So we set out at about 10:30am to go to Kyushu, it's a long trip by car, around 8 hours. So plenty of time to get some reading done. My recommended book for if you're ever coming to Takamatsu is Kafka by the Shore by Haruki Murakami. I could do a whole essay on why this book is good, along with another essay that tries to make sense of what's going on in the book. But all you need to know is that it's set in Takamatsu and describes the place perfectly, to the point where you can even recognise places in the book. This ain't a book blog though, it's a damn Bonsai blog…
So we headed out, 'we' being Me, Koji and Koji's customer, Mr Onishi; he tagged along because he'd always wanted to see Mr Sasaki's garden. Mr Onishi's a pretty cool guy, (thought I'd just put that out there) and he's in the nursery once or twice a week, usually after he finishes work. He plans to win the Prime Ministers Award at Gafu-ten 2017, so hopefully there'll be some more adventures featuring him.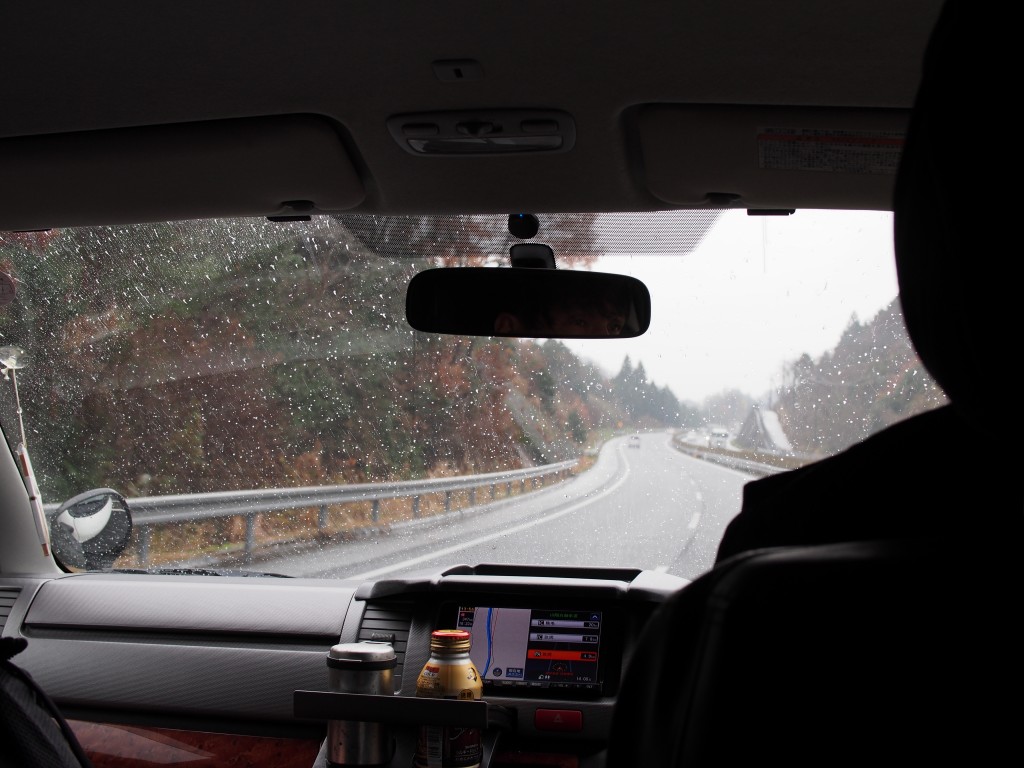 I think this photo perfectly sums up the car trip to Kyushu. Rain. Rain. And more Rain. The only time there wasn't rain or cloud was when we just reached the top of Kyushu. There was this very brief window of blue that opened up in the sky for maybe 20 seconds. After spending 7 hours in the back of a tinted van, it was definitely a welcome change. Unfortunately that didn't last long, and it was back to rain for the next 2 days.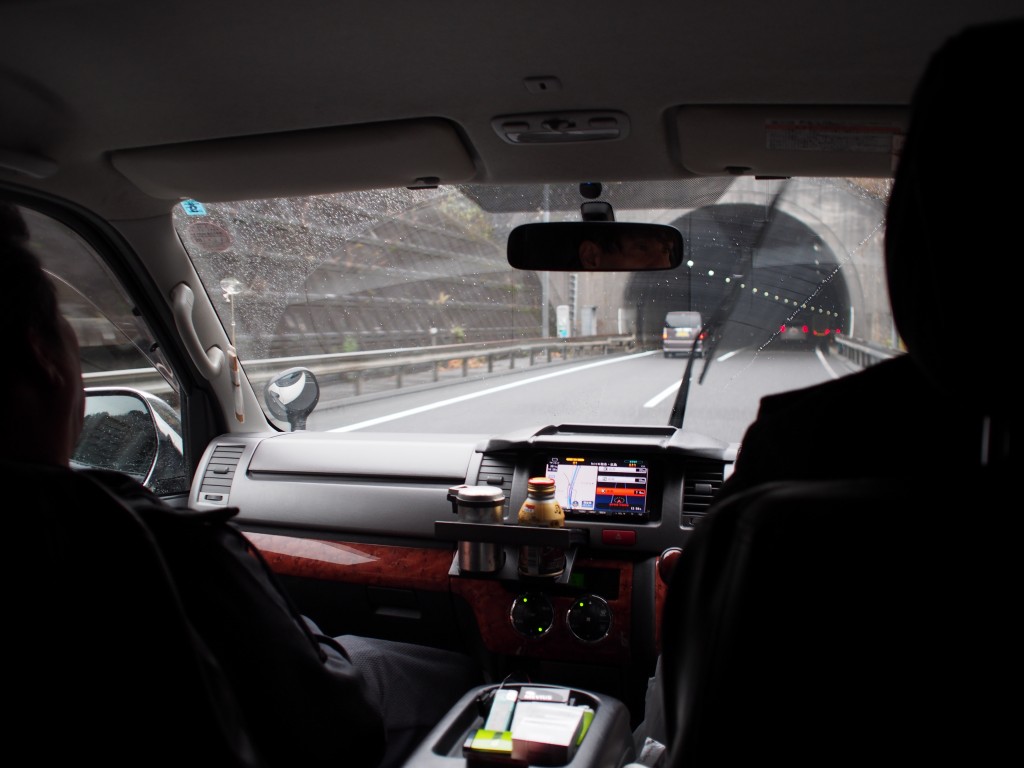 Tunnels were my arch nemesis on the trip. With so many between Hiroshima and Yamaguchi, it became impossible to read, or even watch the scenery. And they also like to toy with you. You'll get maybe 1-2 minutes of tunnel, and then this brief section of open sky before you become the baby with the candy, and the tunnel is that evil man with a questionable moustache.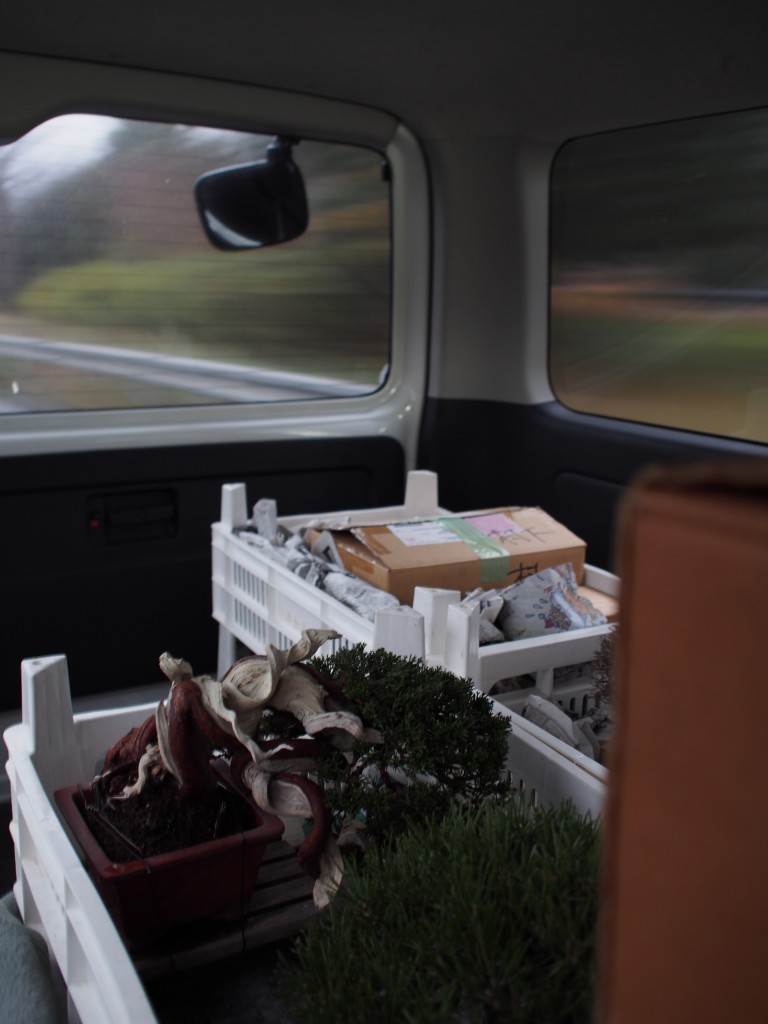 Here's our precious cargo. We brought along all the trees going on display, along with all the stands. On the way back we ended up with twice as much stuff, and some nice trees to go on sale at Gafu-ten (I'll put those in the companion post).
By the time we got to Gashou-en it was probably 7 or 8 pm. At that point we were all pretty tired, but, your intrepid blogger still had the power in him for some night time snaps of the nursery. There was also what I'll call the " Deshi Future Uncertainty Principle" at play, where what you'll do next is entirely out of your control and you might be whisked away at a moments notice. So you always have to be taking photos like it's the last time you'll ever be there.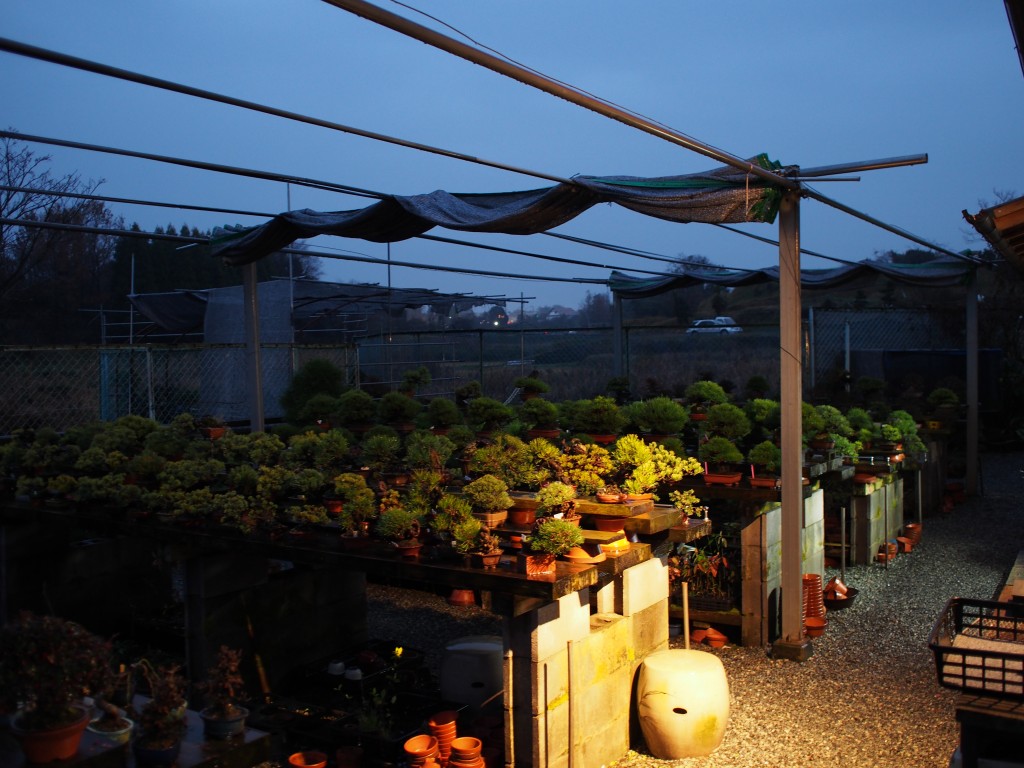 I don't think anything could have prepared me for what the nursery was like in the daytime. This slightly blurry photo is also a pretty accurate depiction of me without glasses on. So being here in the daytime was a whole new experience.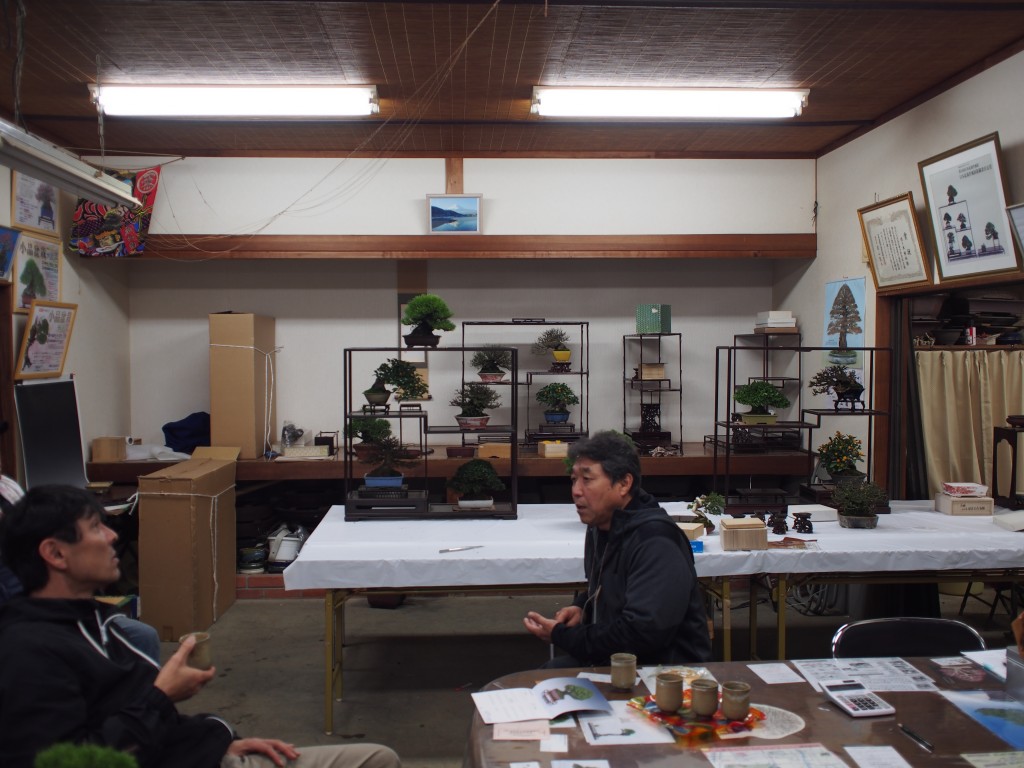 We took a break while we waited for Mr Sasaki to organise some things like accommodation, dinner and closing up shop for the night. That guy on the right is the aforementioned Mr Onishi.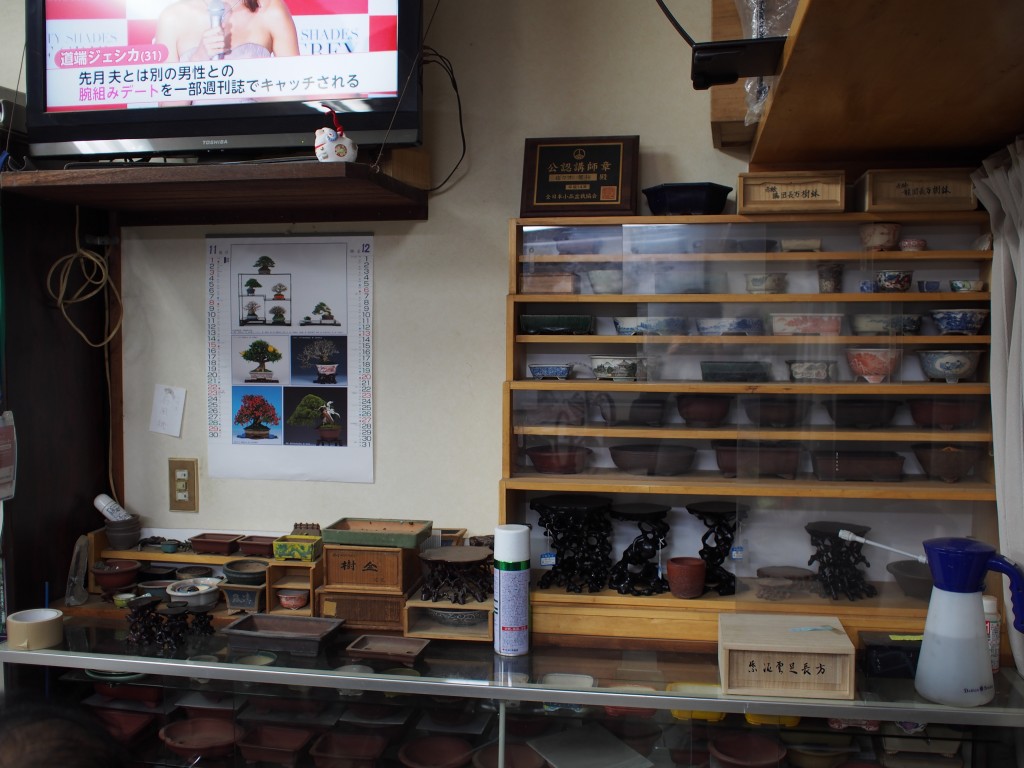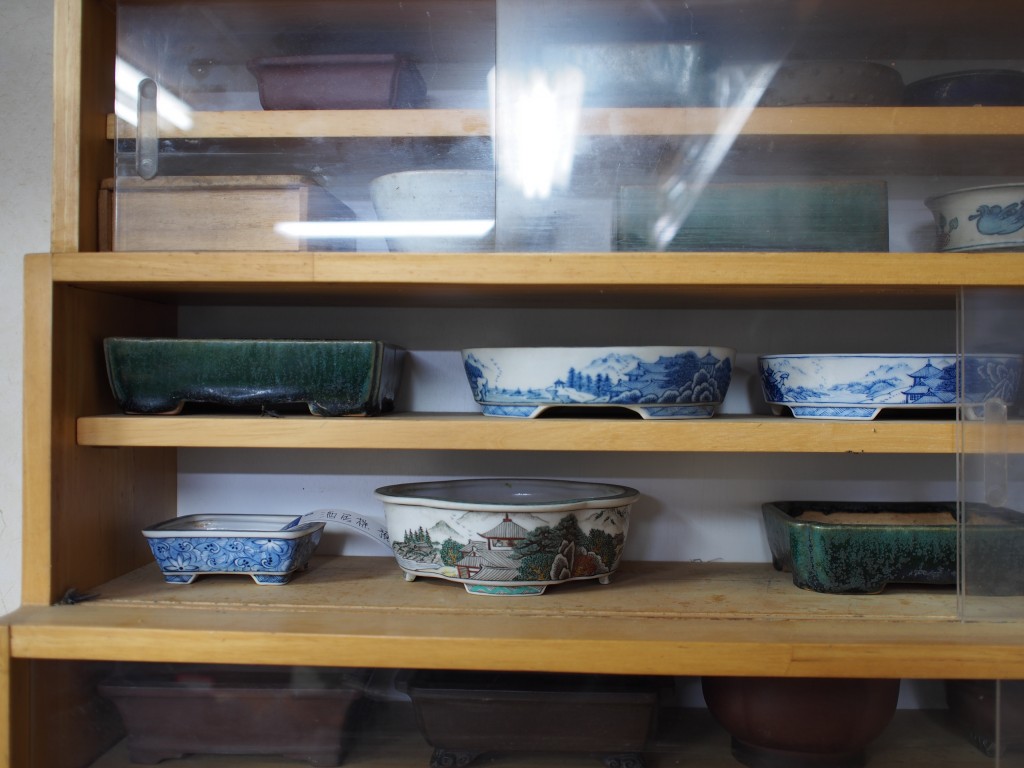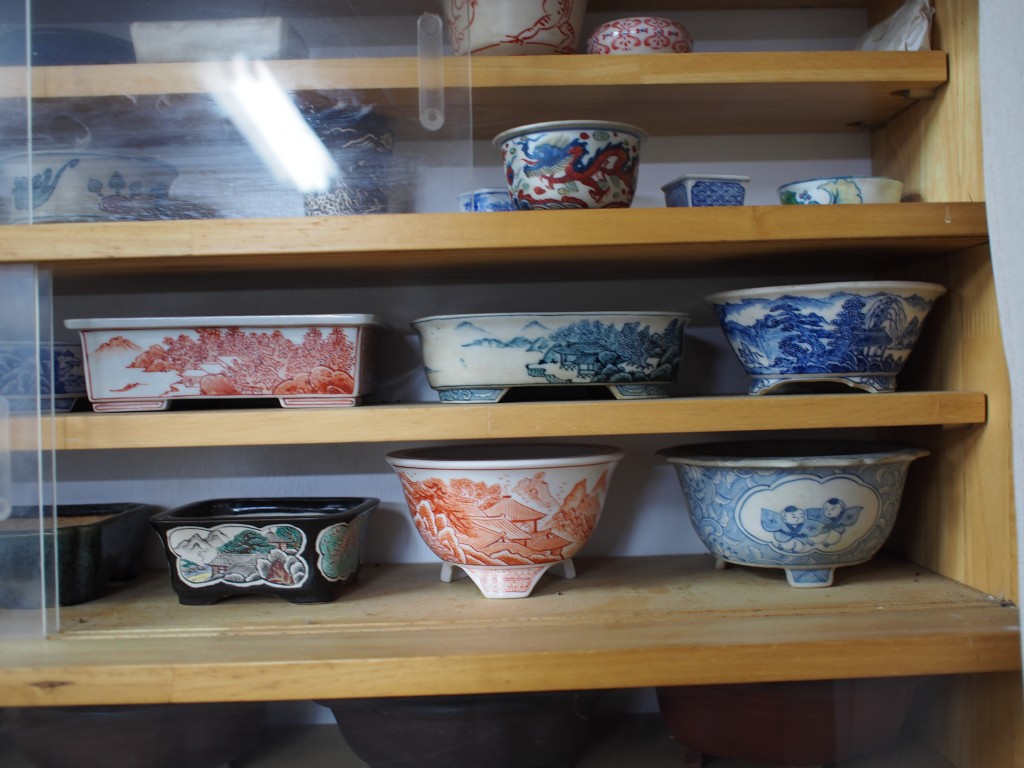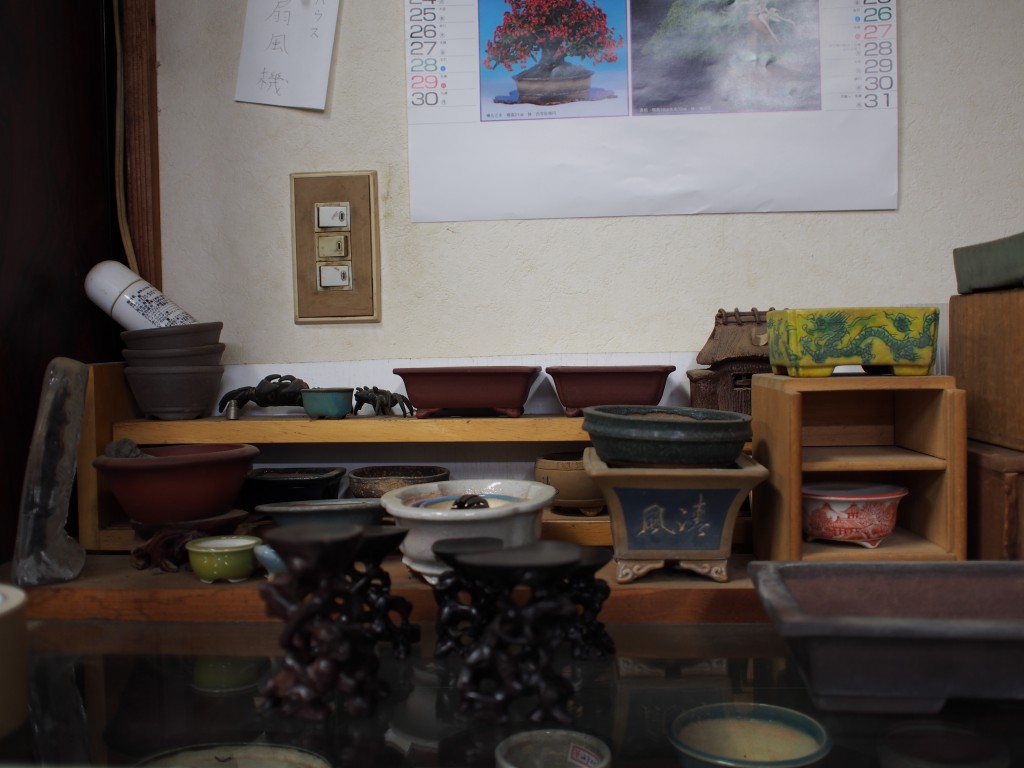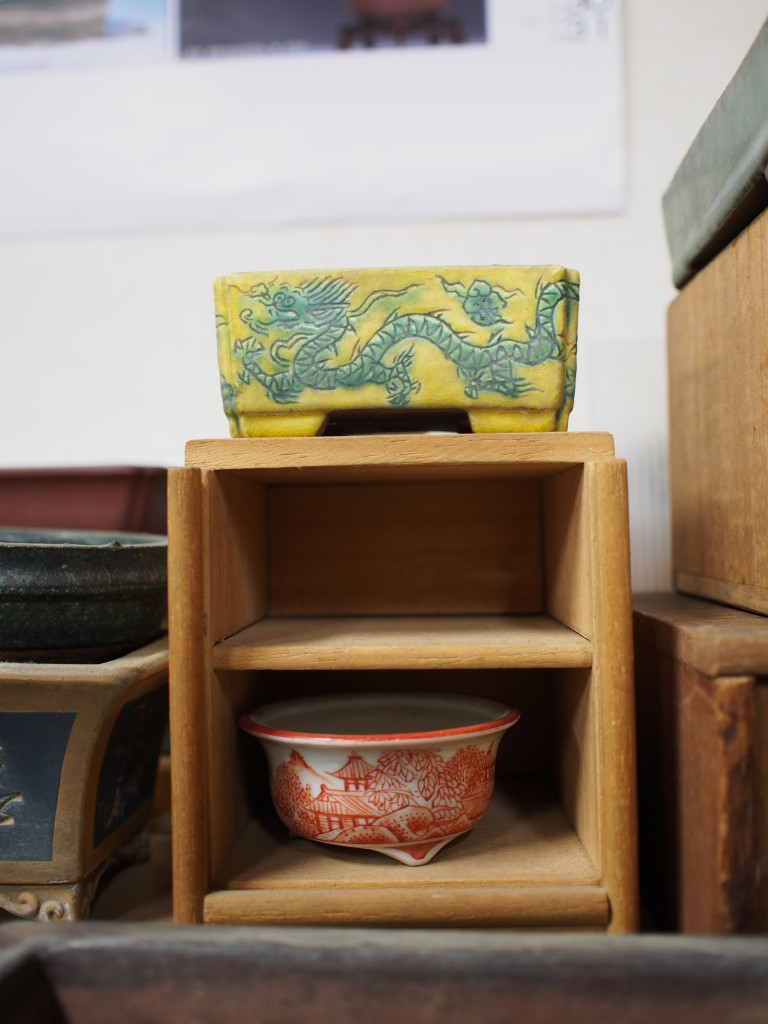 Here's a small part of that impressive shohin pot collection I was talking about. Apart from the Gekkou's, I don't have the 'pot-pertise' to recognise who the other potters are. This was also only part of his pot collection, I don't even want to imagine how much all of them together must cost.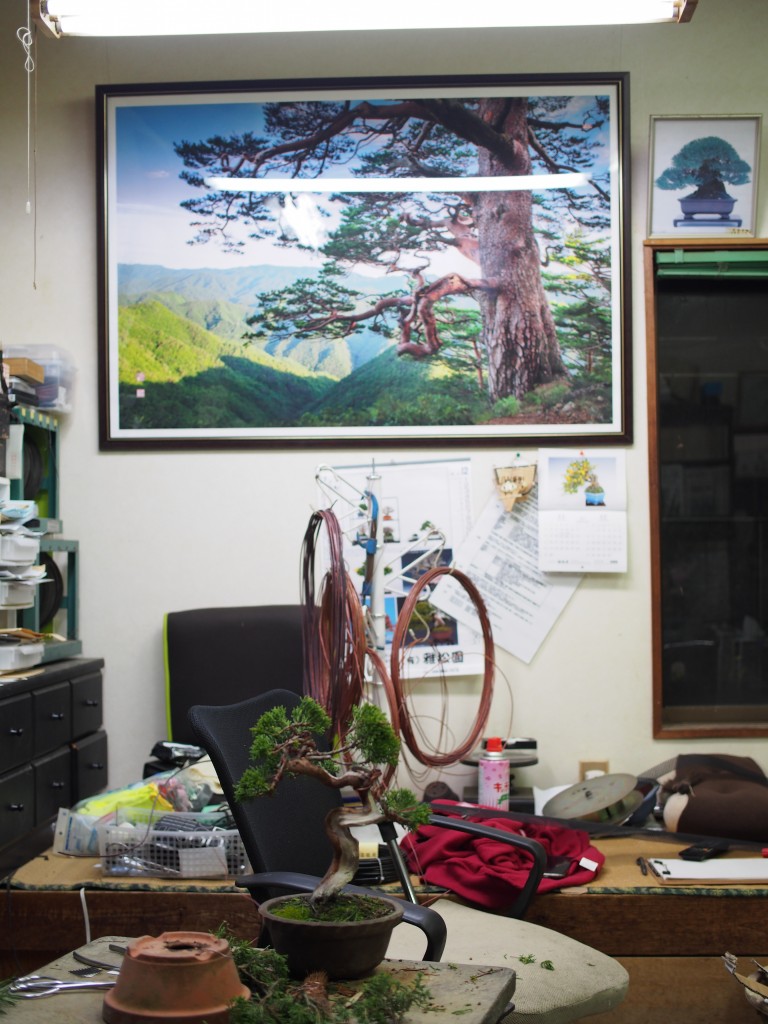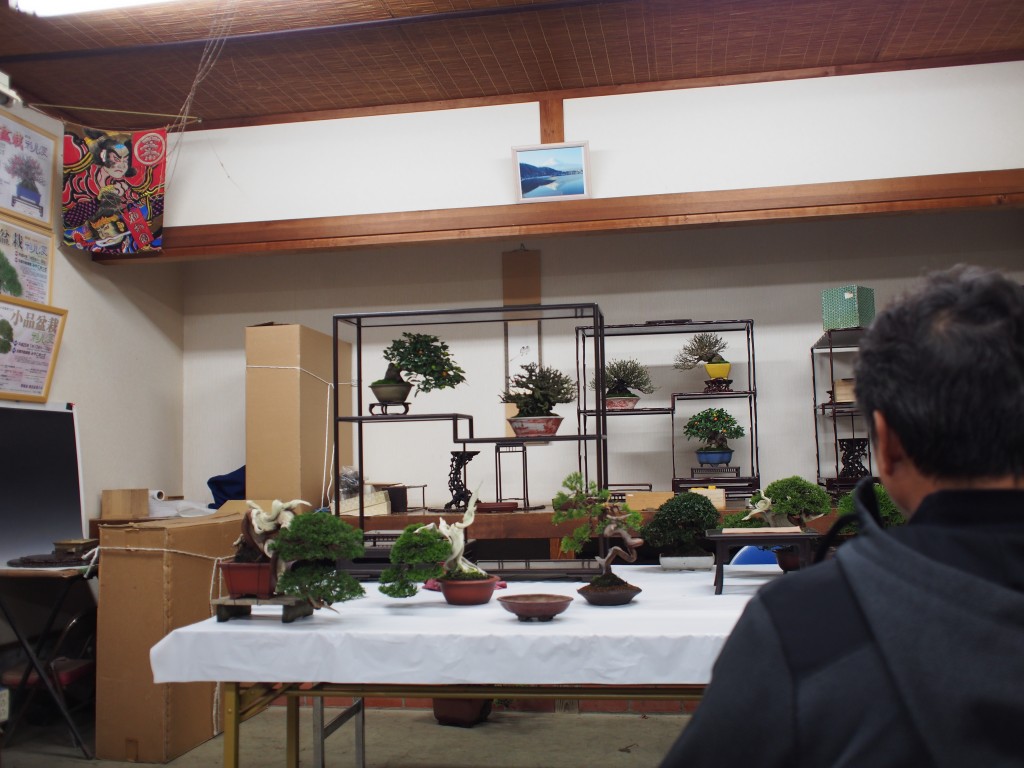 Compared to the workshop at Hiramatsu Shunsho-en, Mr Sasaki runs a pretty tight ship, although his workshop is twice as big as ours. So more space for stuff to go, unlike ours where it's a matter of where we can cram it. The massive Tokonoma is something I could definitely go for at Shunsho-en though…
Here are our Prime Minister Award winning trees (not really, but, fingers crossed). If only we could buy these crates in Australia though. They would have been very handy on so many occasions. Talking to Koji about them, he said they are fairly cheap to buy as well, so it looks like I might need to import a pallet or two.
After we locked up everything in workshop, we headed out for dinner at a local Yakitori restaurant. In Japan most prefectures have a speciality food. In Takamatsu it's the local Sanuki Udon, Udon topped with Tempura. It's gotta be one of my favourite noodle dishes here. Kyushu is famous for its horse meat, usually eaten as Horse Sashimi. Did I try Horse Sashimi? Does the pope shit in the woods? I don't the know the answer to that, but, horse is probably up there as one of my favourite sashimi dishes. They freeze the meat prior to serving, so it has this almost creamy texture to it, like a frozen yoghurt bar. And it has this sweetness to it, so compared to raw beef it is much nicer on the palate.
After that Koji and his Mr Onishi went to their hotel and I, being the apprentice, went with Mr Sasaki to stay at his place. With my limited Japanese, it was definitely more of a challenge than staying with Koji (who speaks english), but, actually quite fun being out of my depth like that for a change.
In the morning Mr Sasaki dropped me of at the nursery, and went to pick up Koji and Mr Onishi from their hotel. This gave me a perfect opportunity to be let loose in the nursery for some photo taking, especially lucky as it was the Golden Hour for photography.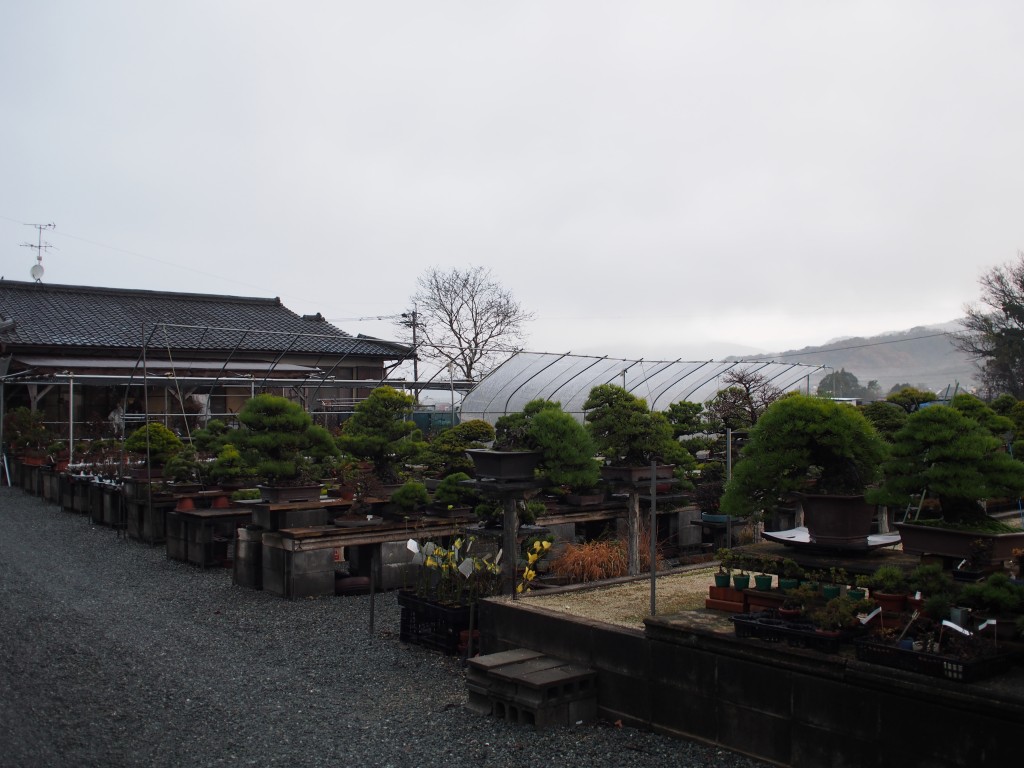 Apart from all the amazing trees, Mr Sasaki keeps a pretty clean garden as well. The place was pretty much spotless when I walked around, even in the corners that customers wouldn't normally go.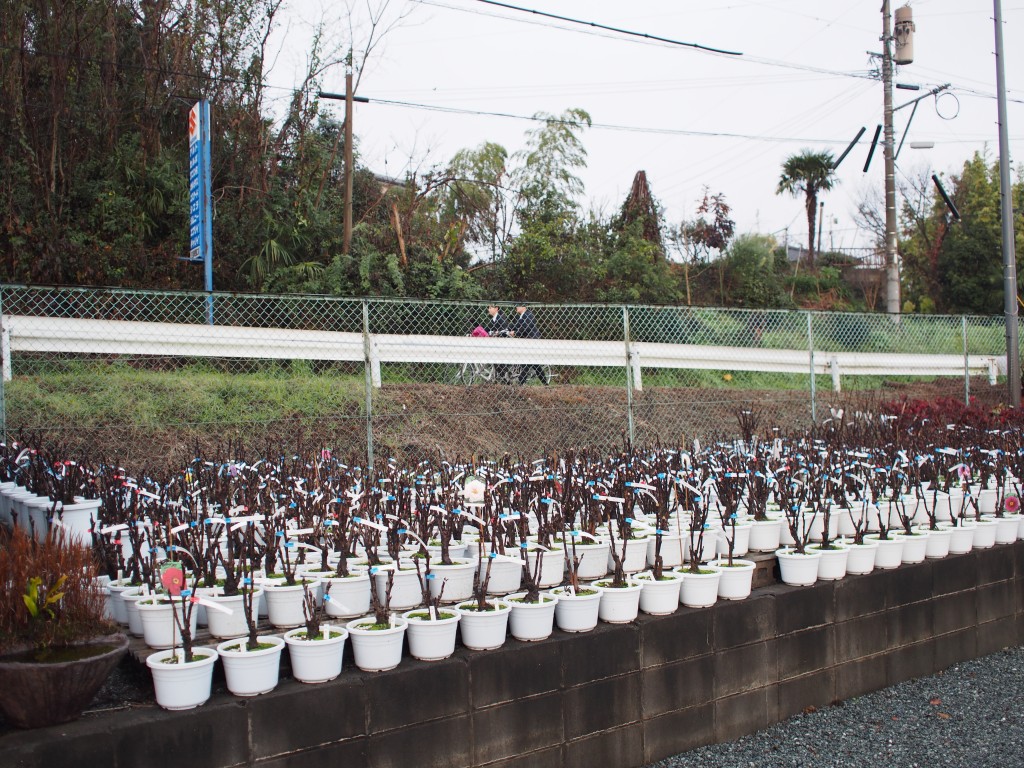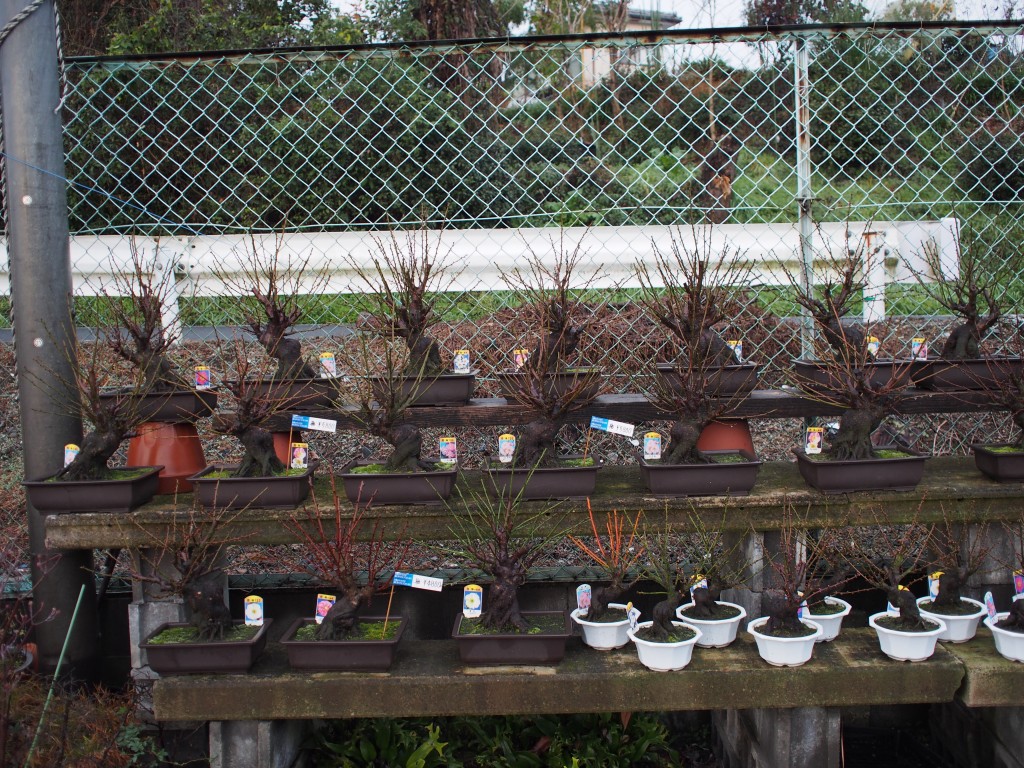 Apart from the bonsai, there were also heaps of Camelias, both bonsai and garden stock. It hurt my head a bit with how many varieties he had on sale.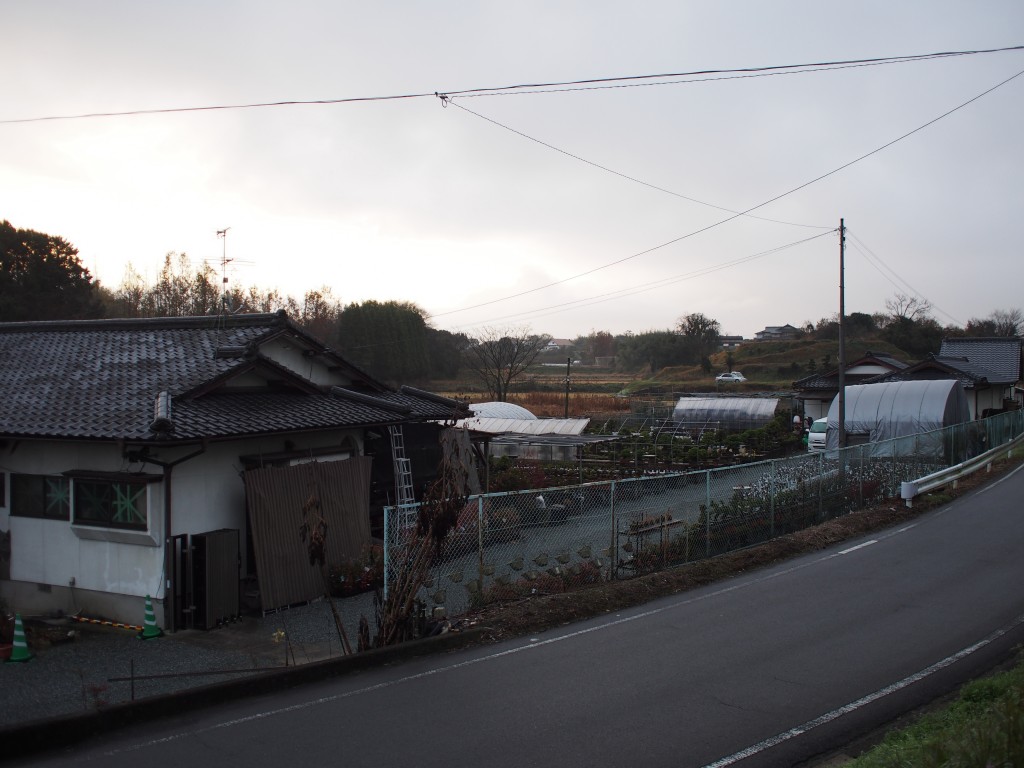 To be honest it wasn't pleasant getting this shot. I crossed the street, climbed a small hill and walked through a vacant plot, in the process getting my canvas sneakers and pants soaked from the damp weeds overrunning the plot. Was it worth it? I'll let you be the judge.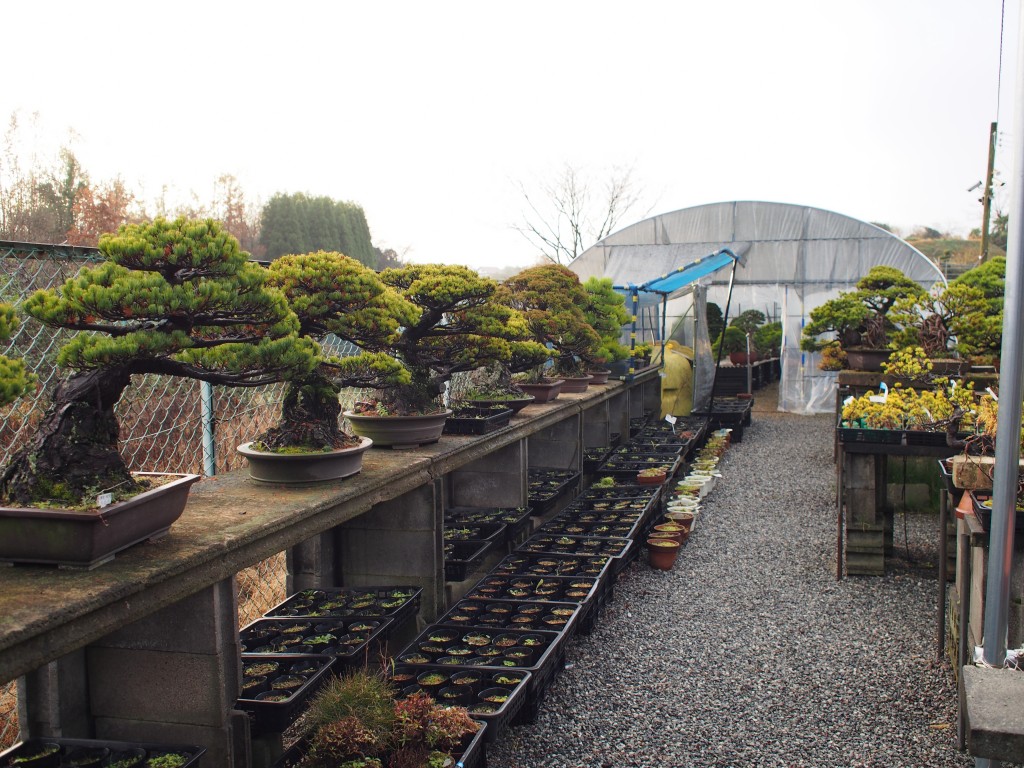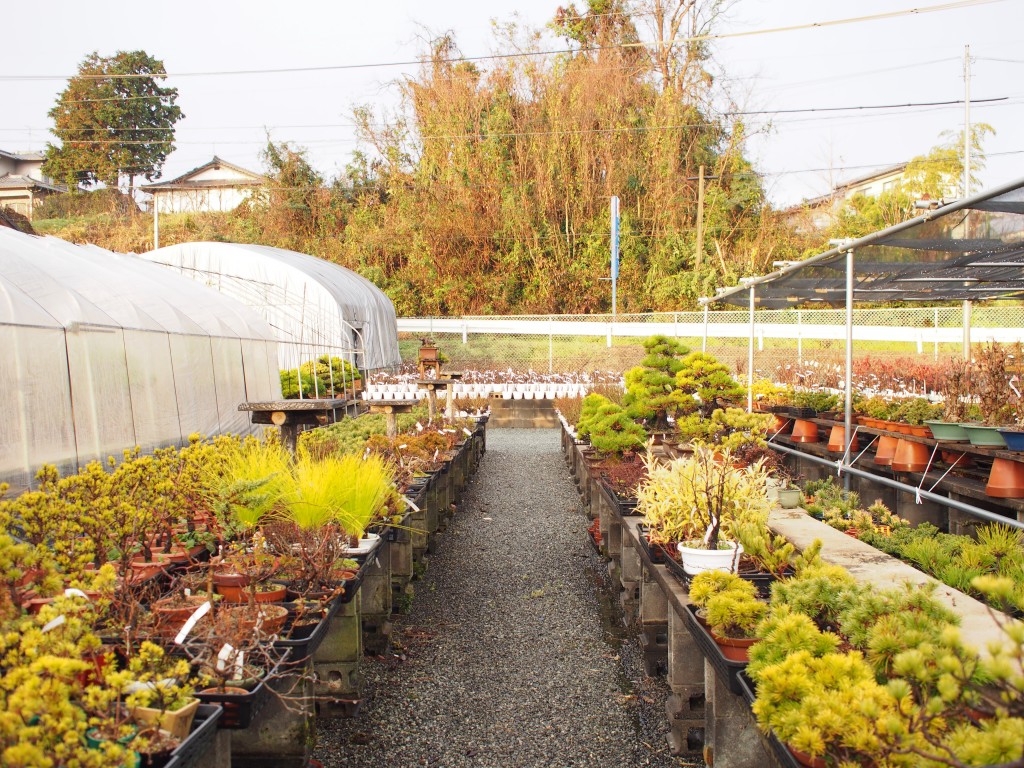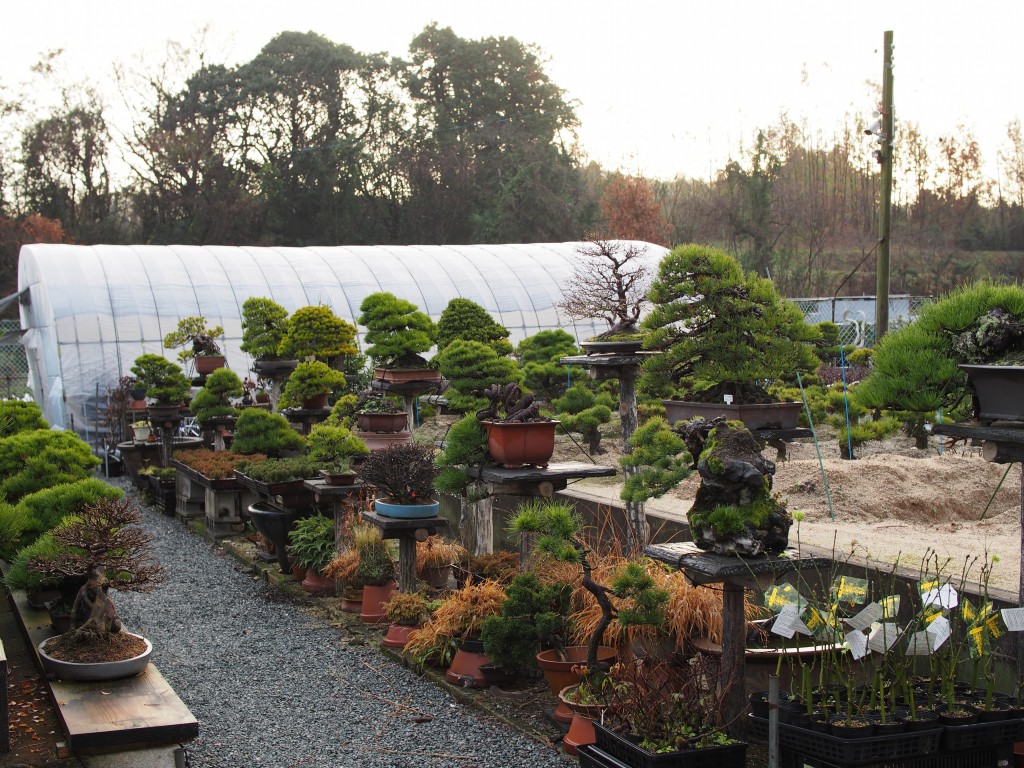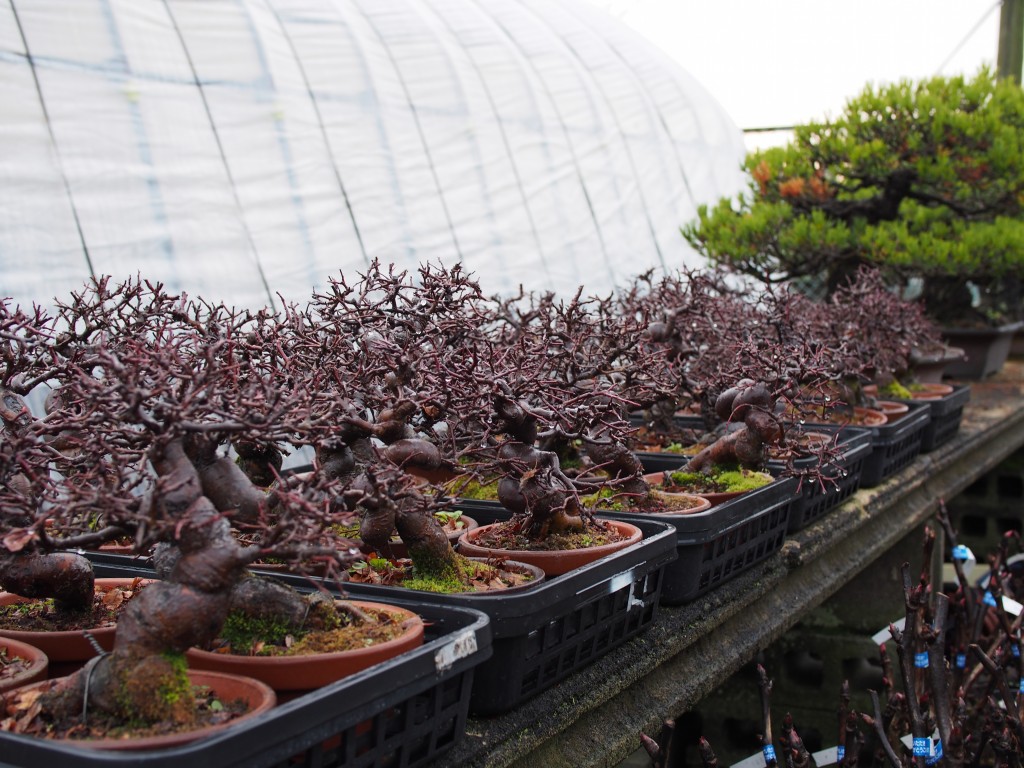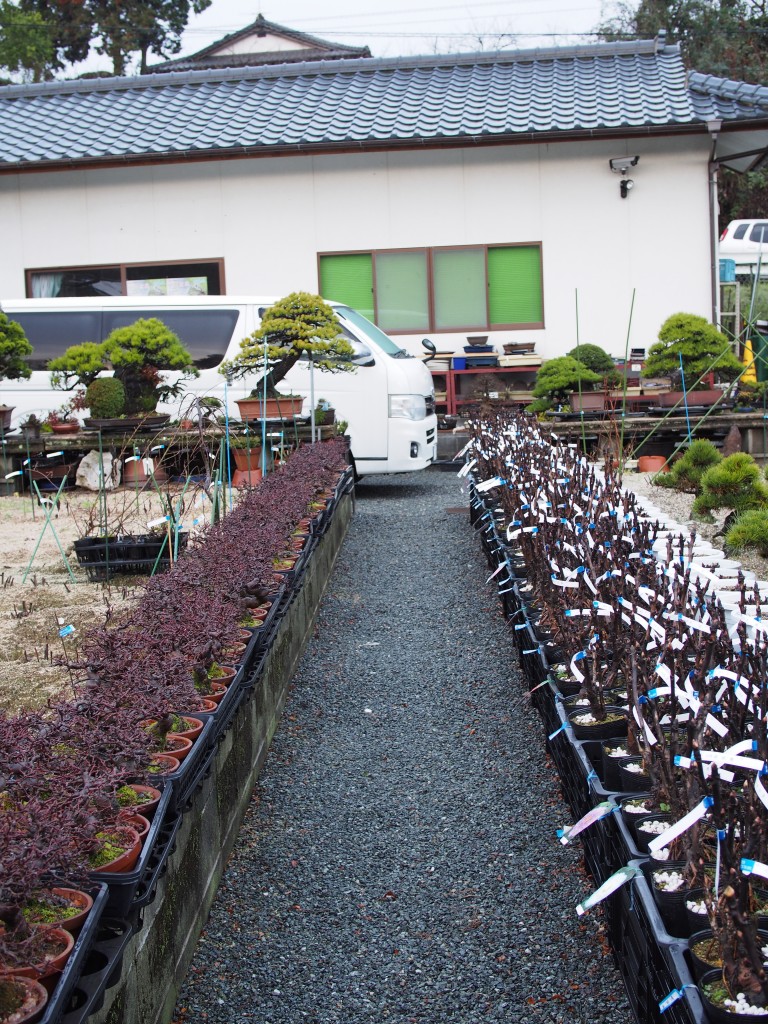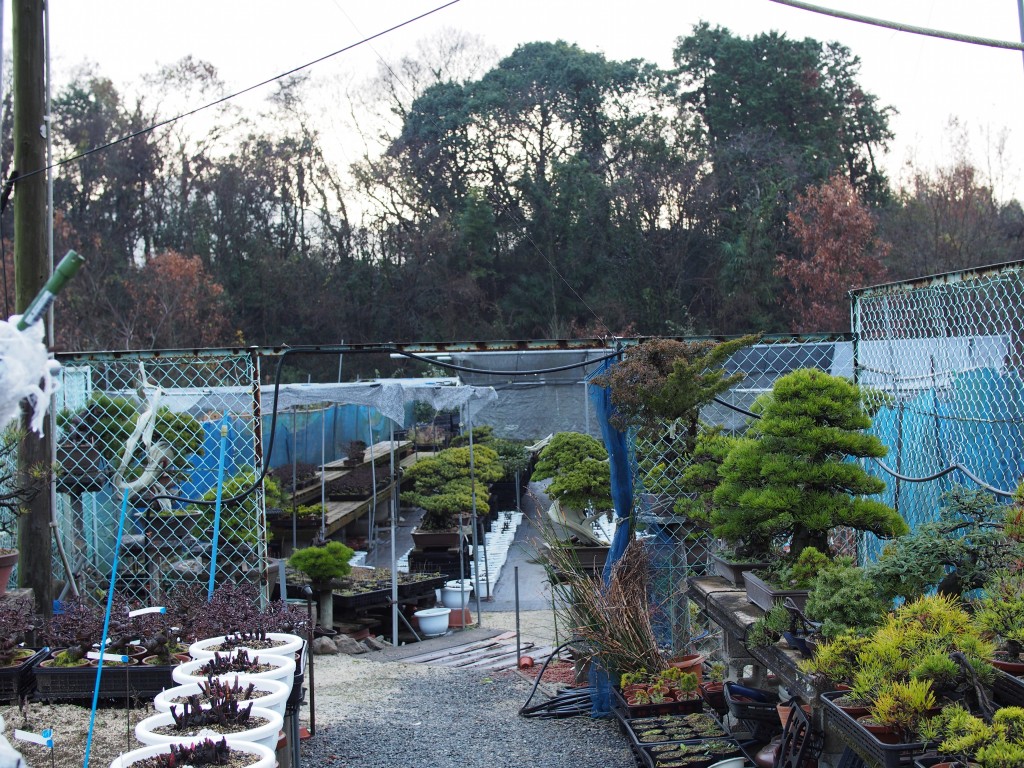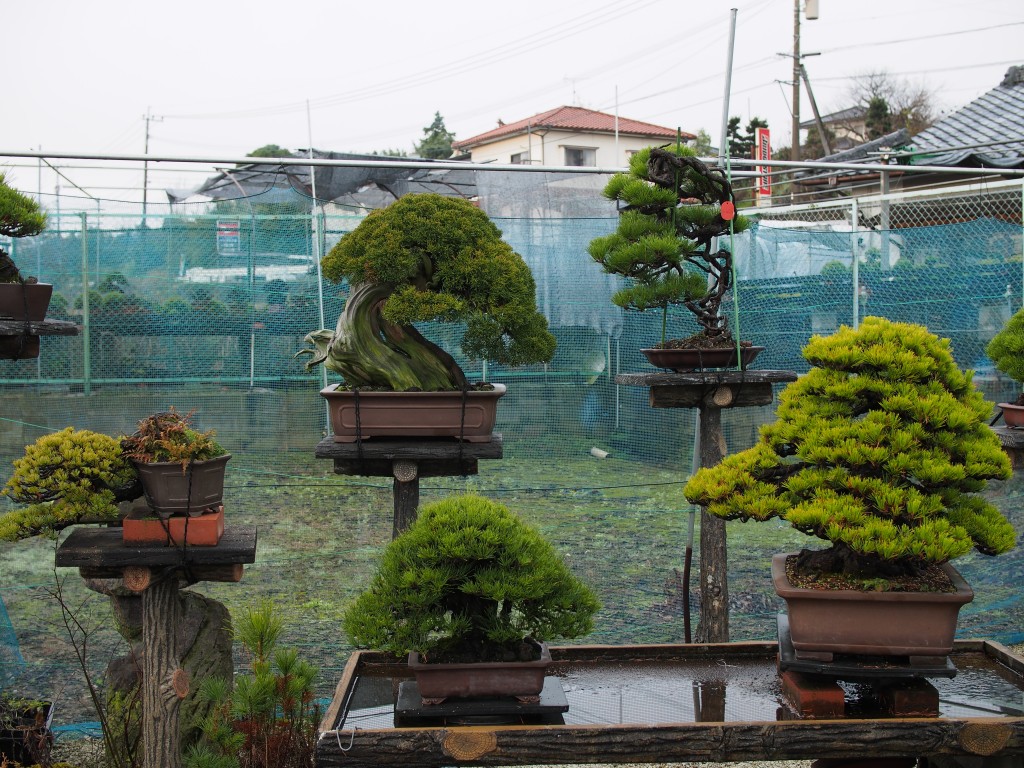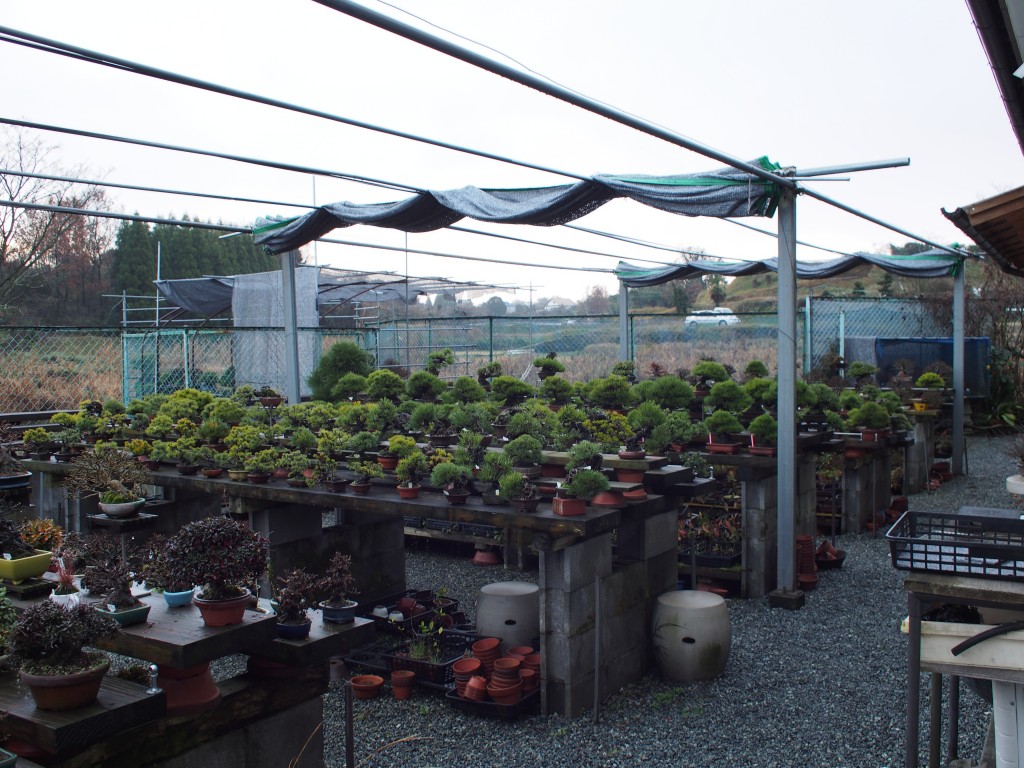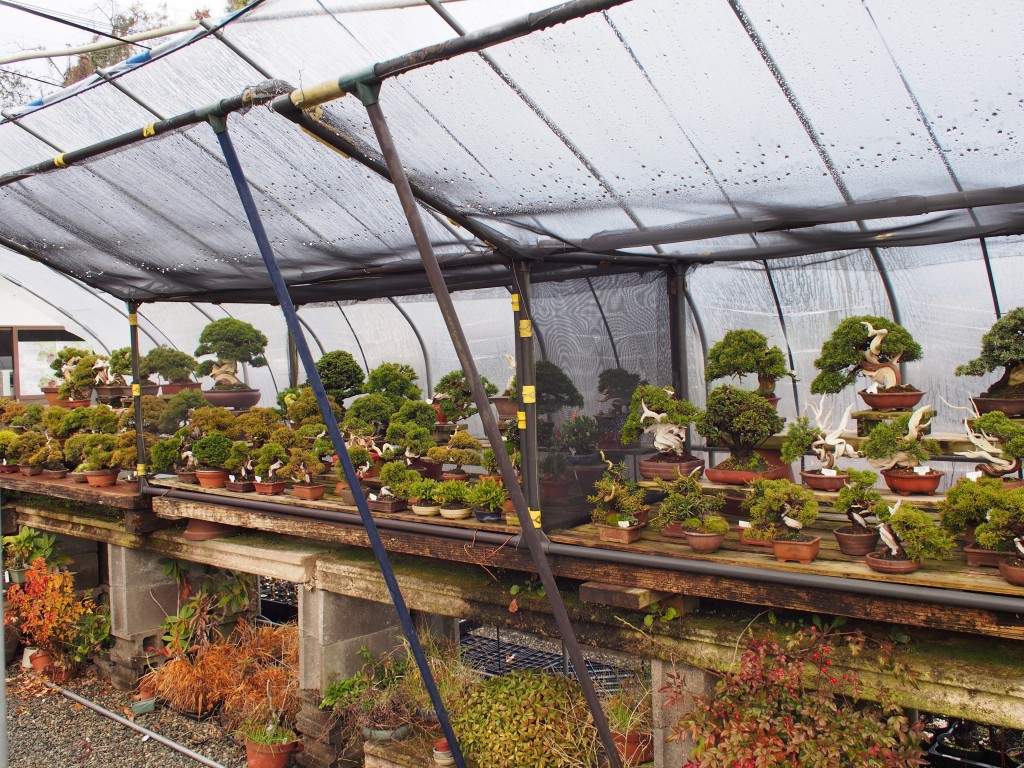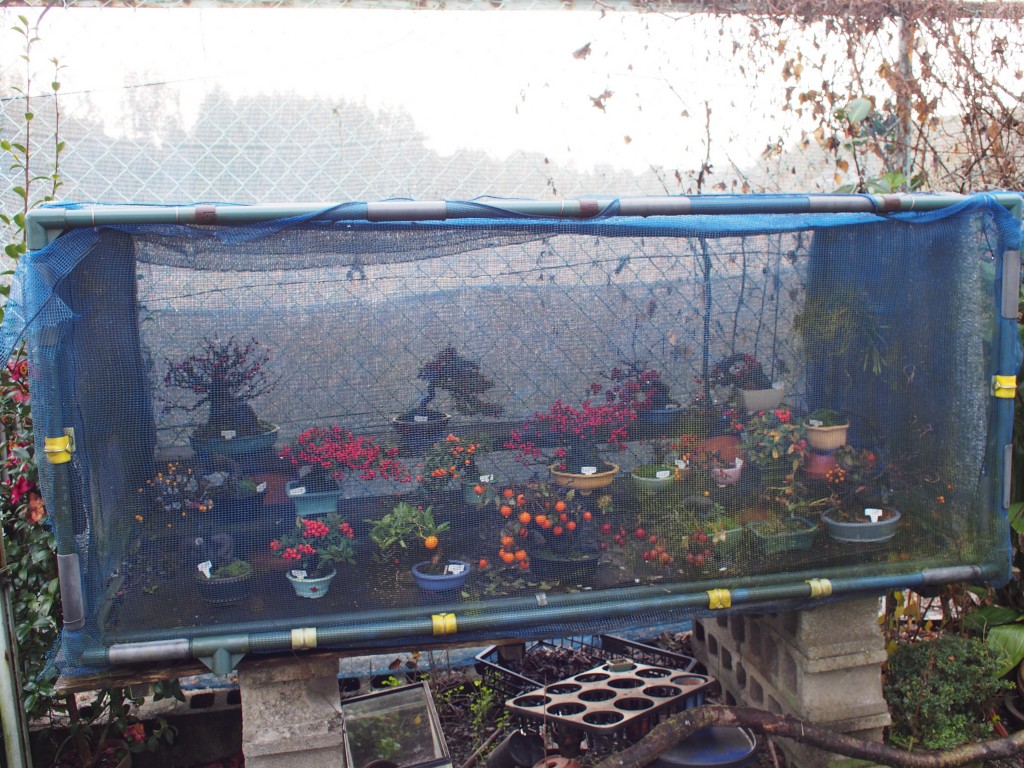 I think I'll let the pictures do the talking here. As you can see he's got a pretty decent range of stuff, and a pretty sweet nursery as well. I'll reward you with what I promised in the beginning next post.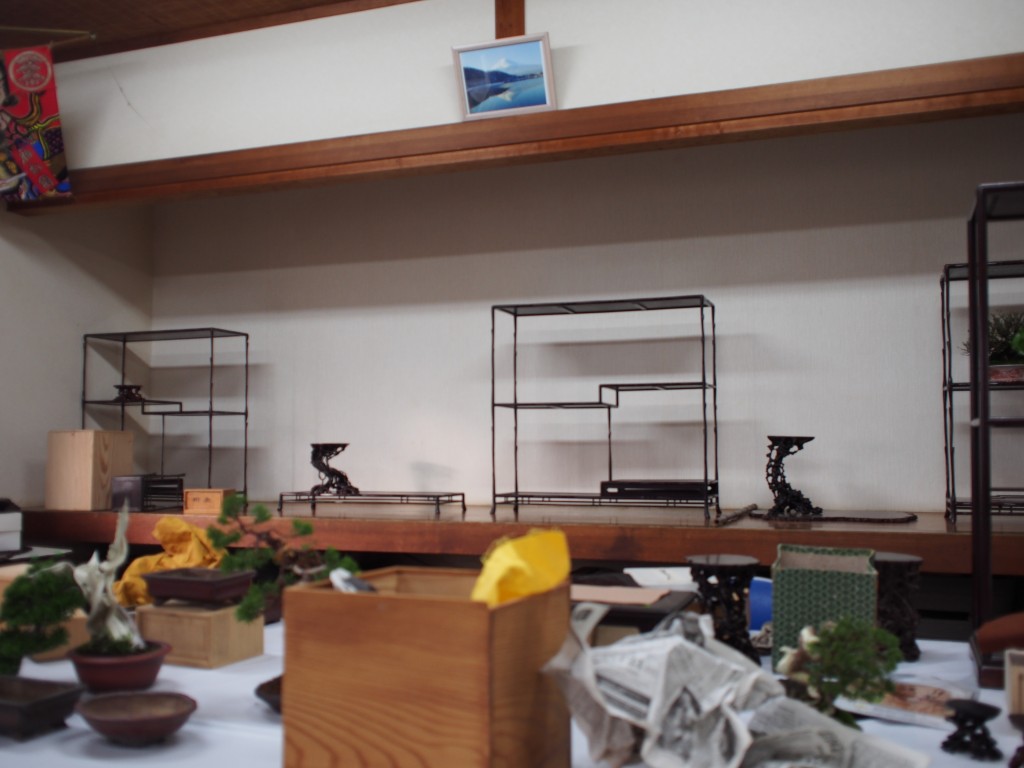 Here's our display minus trees. That root stand was the toughest decision in making this display work and it wasn't until a few days ago that the customer made the final decision about which stand to use.
And here's the tree that's going on that stand, prior to pot change.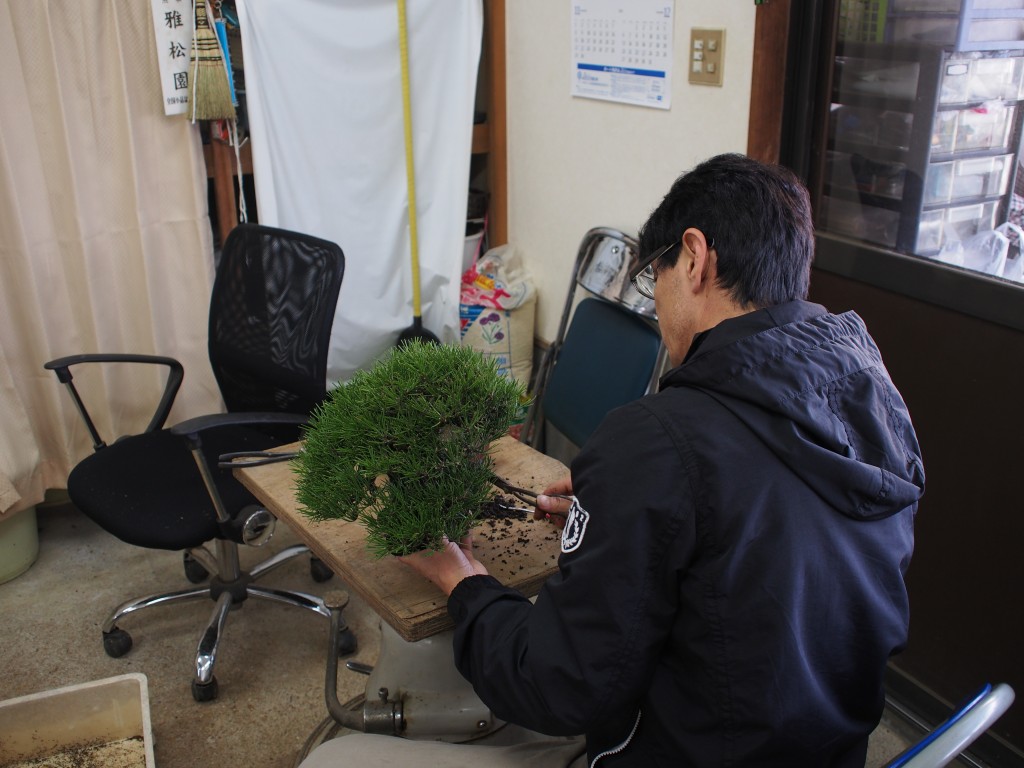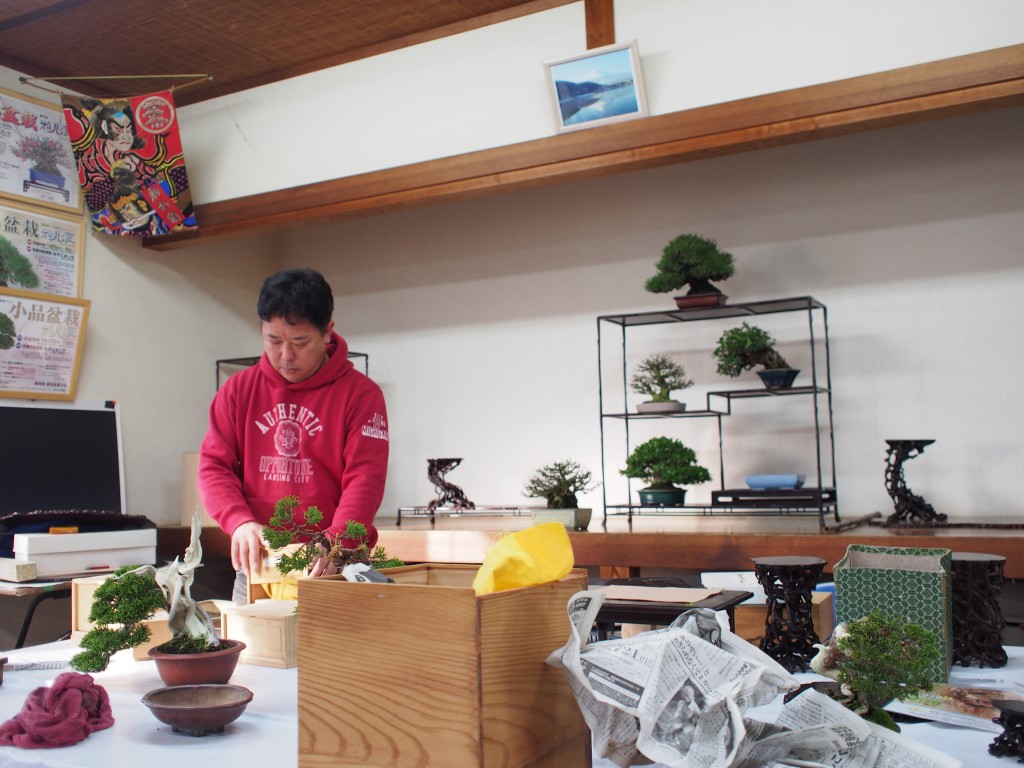 That's Mr Sasaki, getting out a suitable pot for the juniper. It took around 3 hours to get the display ready. That involved picking pots, repotting all the trees, getting the accent ready. I was given some trees to unwire while this was happening. I was sweating while doing that, because some of the tree were worth $3000 AUD, with very delicate jins that looked very easy to break. Didn't want to screw that up…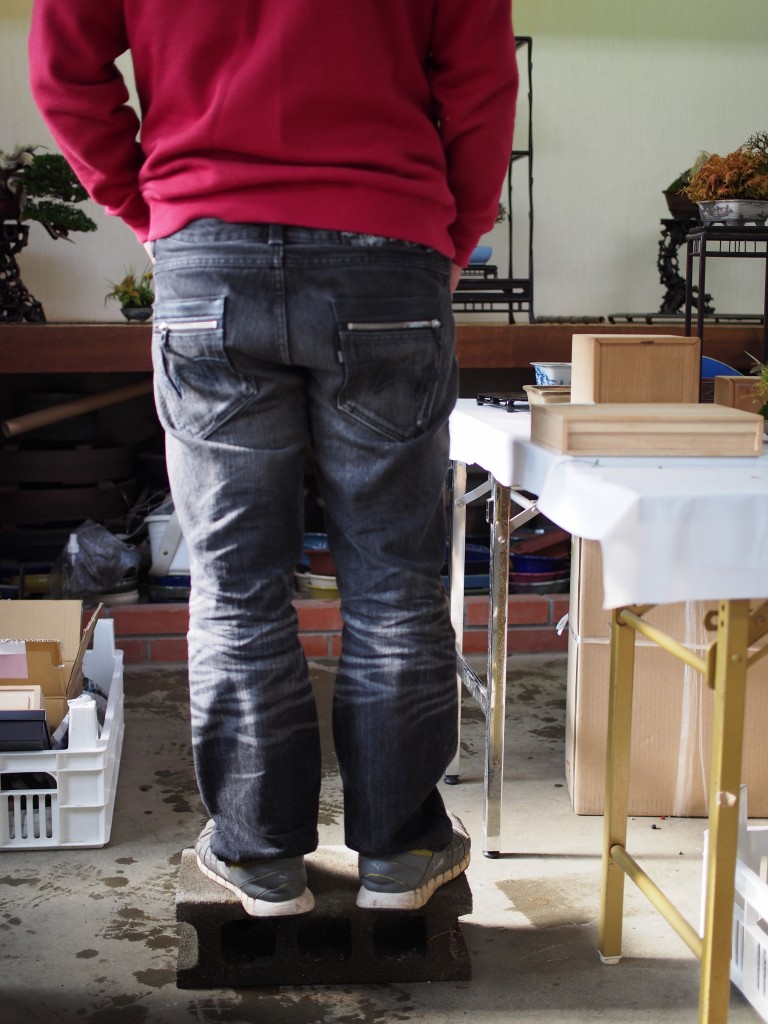 Here's a trick of the trade. Because the table height for shows is much lower than the height of the Tokonoma, Mr Sasaki used a cinderblock to get some height. I hear Mr Kimura has a gold plated one that he uses (You didn't hear that from me).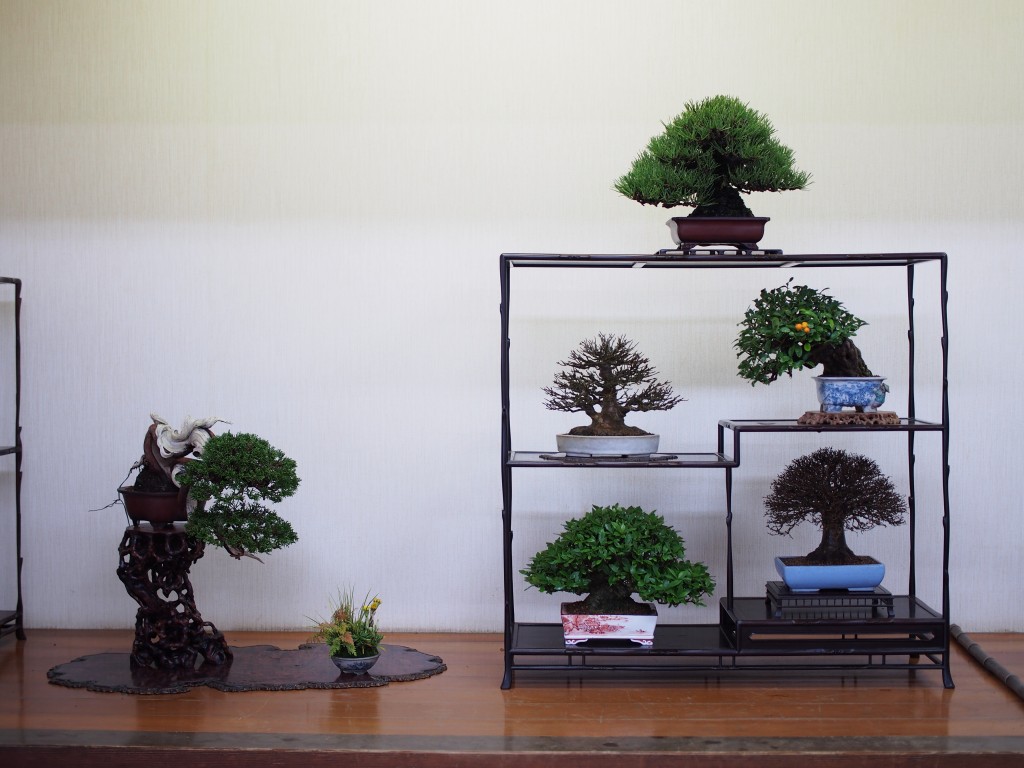 There's that root stand that was giving us difficulties. Unfortunately the perfect root stand is one that's a mix of the two, probably with the height of 1 and the delicateness of 2. I think out of the two, I prefer the first. I guess that's always the problem though, you can always picture the perfect stand, but getting it is the hard part.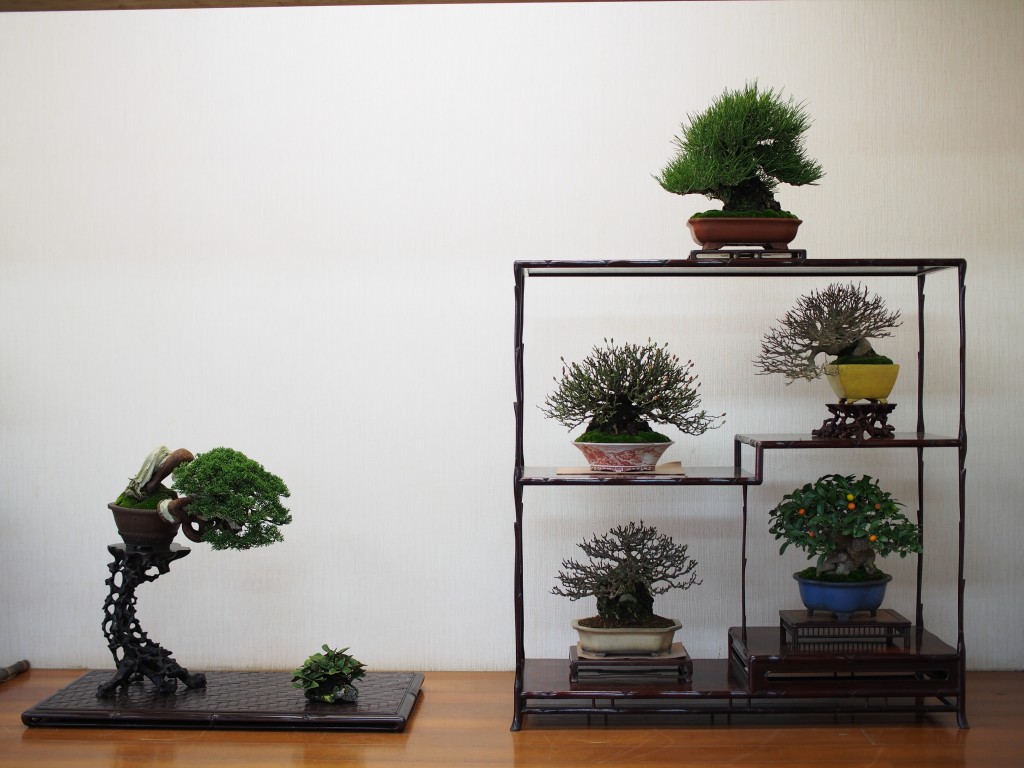 This is the display that Mr Sasaki's customer is entering into the exhibition. I actually prefer Mr Sasaki's display better than ours. I think the overall composition is more harmonious, with that juniper and root stand combination working much better than the ours. It will be interesting to see how the two displays go at the exhibition.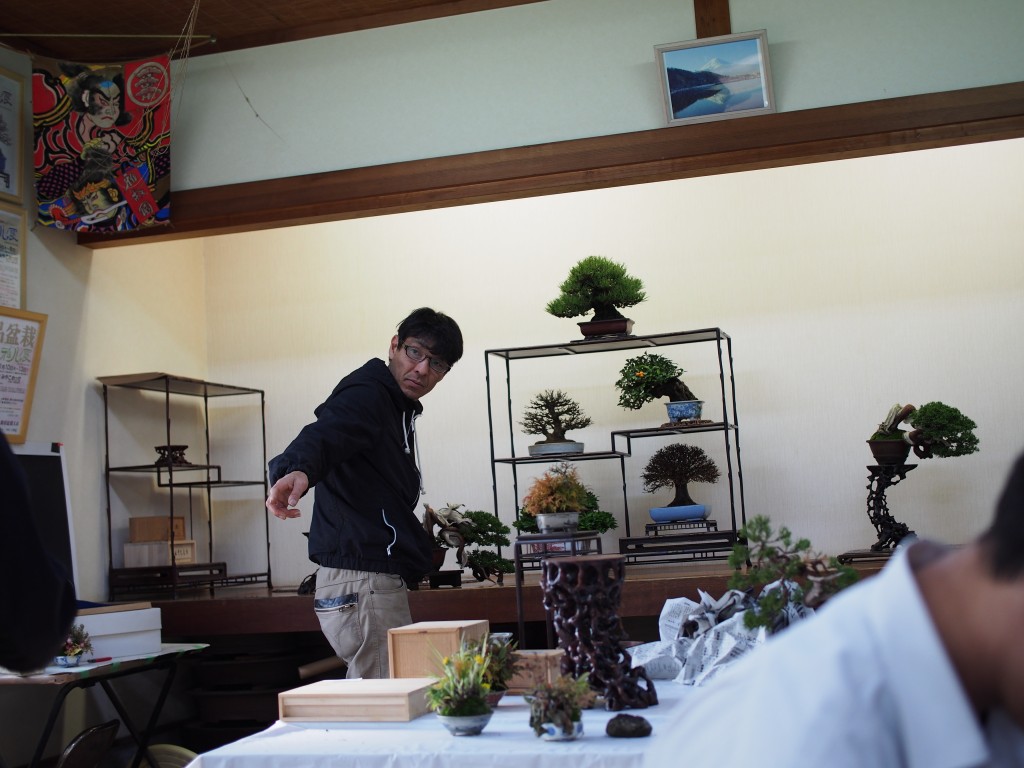 "Oi mate, toss us an accent."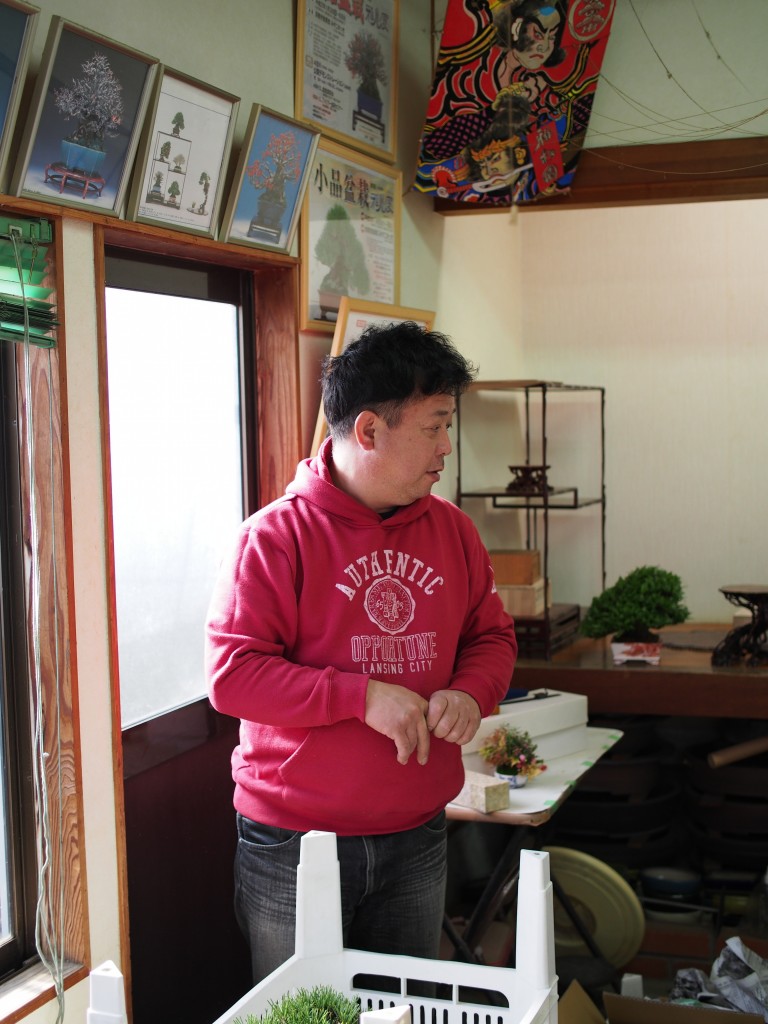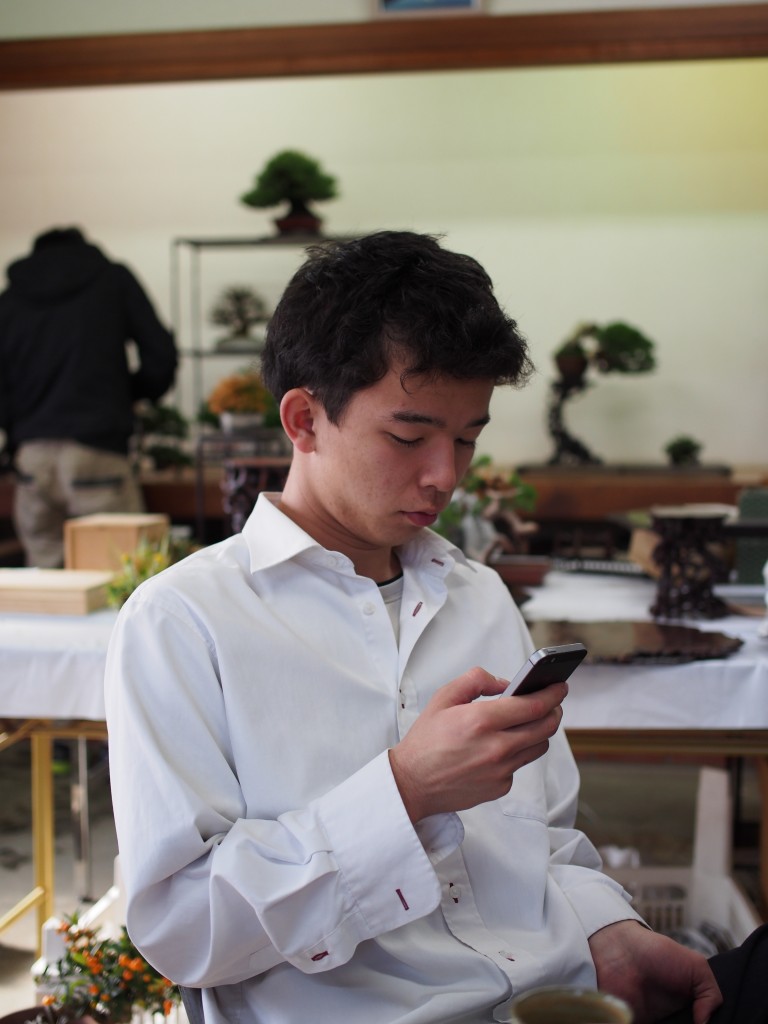 This is Mr Sasaki's son Yusei. He's currently in his last year of High School, and starting in March he'll be Taiga Urushibata's first Japanese apprentice. So look out for him in future, as we'll hopefully be seeing more of him. He'll also be attending the upcoming Noelanders Trophy, so make sure you say hi to him (he doesn't speak any english though, so don't expect a reply).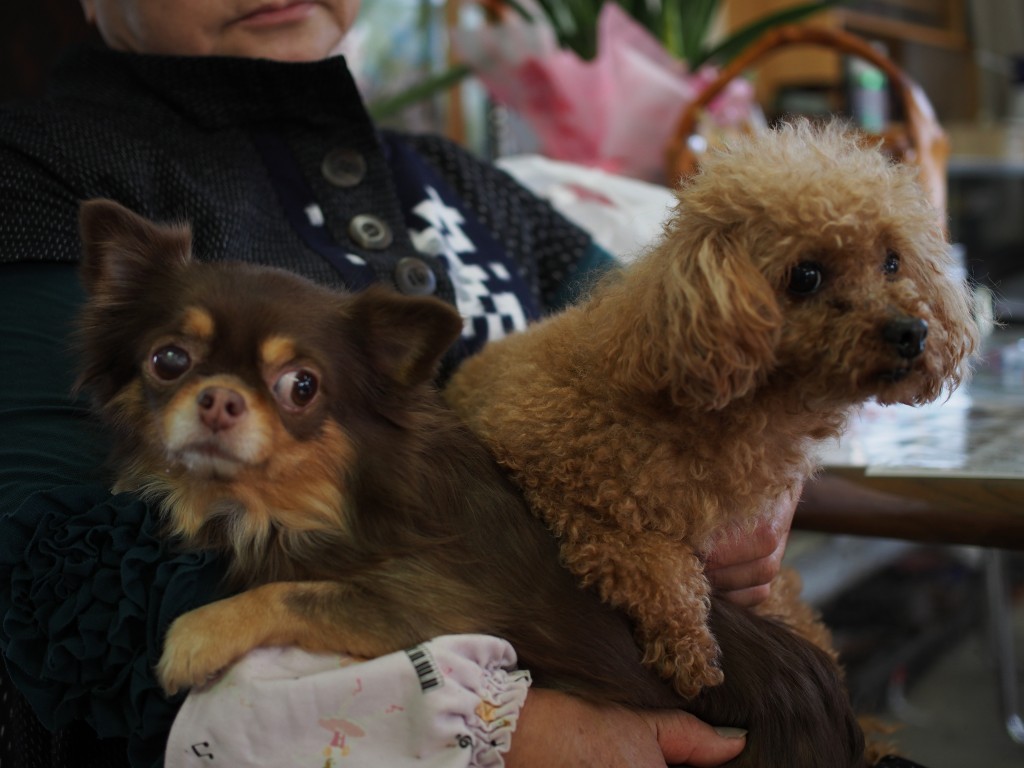 And here are Mocha and Poppy, the two cutest nursery dogs in existence.
I'll post all pictures for the "Bonsai Illustrated – Shohin Edition 2016" sometime tomorrow. Until then use your imagination, like the good ol' days.